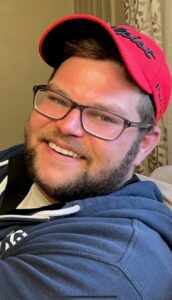 Joshua Gregory Greene passed away unexpectedly on Friday, December 23rd, 2022. He was 32 years old.
He was born September 25, 1990, in Amery, WI, to Greg and Denise Greene. He attended both Amery and Osceola school districts, graduating from Osceola High School in 2009.
Joshua enjoyed fishing, golfing, attending and watching numerous sporting events, hanging out with friends and family, collecting sport memorabilia, telling jokes, and making friends wherever he went. He was a stranger to no one and found great purpose sharing in the successes, joys, and challenges of those around him. Everyone who knew Josh felt his big heart and giving nature.
He enjoyed spending time with his nephew Rowan, and couldn't wait to be an uncle again in May (baby Sabin). Joshua was known as "Uncle Josh" to many. He seemingly was at his most peaceful state when he was around children – a calm and state of comfort that was noticed by many.
His charm, impersonations, wit, contagious smile and laugh, big bear hugs, and the ability to make anyone he met feel like an old friend are just a few of the many things that were so loved about him. His antics were legendary and those who knew him have their own stories to tell. Joshua was authentically and unapologetically himself. He was always there for those in his life and loved them fiercely.
Joshua is survived by his loving parents, Greg & Denise Greene; sisters and their spouses, Amanda (Shane) Sabin; McKenna (David) Townsel; grandparents, Sharon Sweeney, Nick and Avis Hatten; nephew Rowan Townsel; and many other loved ones.
Joshua is preceded in death by his half brother, Justin; grandparents, Jim and Darlene Greene; cousin Jim Greene; and other loved ones that fly among us.
A Celebration of Josh's Life was held on Thursday, December 29, 2022 at 6:00pm at Bakken-Young Funeral & Cremation Services 728 S Knowles Avenue New Richmond, WI and streamed live through the link just below this obituary. Visitation was also on Thursday from 4-6 pm at the funeral Home.
Arrangements are with Bakken-Young Funeral & Cremation Services.