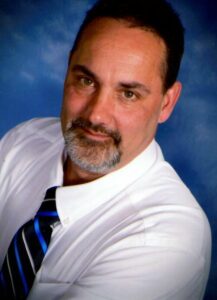 Joseph Alan Robinson, age 52, passed away on 10/1/2022 in his home surrounded by friends and family following a courageous battle with Stage IV Non-Small cell lung cancer.
Joe was born on November 19, 1969, at St. Joseph's Hospital in St. Paul MN to Gerrie Ferdelman and Arnold Robinson. He became a big brother in 1971 being blessed with a sister, Karrie Ann, and in 1972 along came his brother, Tony.
Joe attended Jackson Elementary and Centennial High School in Centerville. In 1987, Joe graduated from Como High. Joe had many talents and experienced many different types of employment. He excelled in the construction line of work and later enjoyed his time in restaurant management. He felt lucky to have participated in the care of his Uncle Steve. At Joe's last place of employment, he worked in a janitorial role with the Somerset School District. The students and coworkers embraced Joe as one of their own and provided an outpouring of love and support upon learning of his cancer diagnosis, which abruptly ended his ability to continue working.
In October 2017, Joe met the love of his life, Jamie Pape. They spent the last five years together in New Richmond WI. Together they enjoyed camping, traveling, boating, and playing Joe's favorite card game, "Hand and Foot", in the company of many family and friends.
Joe was preceded in death by his father, Arnold Robinson; his stepfather, Ron Ferdelman; and his sister, Karrie Ann Nolte.
Joe is survived by his mother, Gerrie Ferdelman; his daughters, Marissa (Adam) Blangero and Ashley Thompson; his brother, Tony Breheim – nieces, Mackenzie and Emma; his sister, Karrie's children, Jestine (Justin) Rice – great-niece, Jaylin: Britni (Cody Johnson) Nolte – great-niece, Zoe: Kylee (Dylan) Johnson; his fiancé Jamie Pape; Jamie's family: James Pape (Father), Connie Schultz (Mother), Teri (Bob) Olds (Sister); niece, Gracie; god-children, Logan Page and Isaiah Dardine and many aunts, uncles, and cousins.
In lieu of flowers, memorials are preferred. Family and Friends whom Joe's life touched were invited to his Memorial service at The United Methodist Church, 209 East Second St, New Richmond WI 54017. The service began at 1 p.m. on Sunday, 10/9/2022. Please join us afterwards for a luncheon and time to reminisce, grieve, support each other, and just chat. Cremation Services provided by Bakken-Young Funeral & Cremation Services.