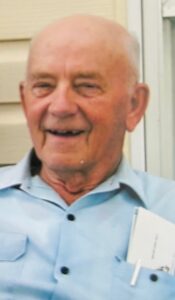 Joseph A. Huppert, beloved father, brother, grandfather and great-grandfather died Sept. 24, 2022, at his Ellsworth home. He was 94.
Joseph was born Dec. 22, 1927 at home in Trimbelle Township, Pierce County, Wis. to Joseph Huppert and Barbara (Thom) Huppert. He attended St. Mary's grade school in Big River through grade 8.
Joseph served in the United States Army during the Korean War.
He married Mary Esteb, May 5, 1951, at Clayfield Catholic Church in Pierce County. They were married ten years and then divorced. The couple had five children: Vicki (Gary) Nelson, Ellsworth; Wis. Timothy (Susan) Huppert, Pepin, Wis.; Kim (Elizabeth) Huppert, Ellsworth, Wis.; Robin (Huppert) Johnson, Henderson, Nev.; and Pamela (Huppert) Sans, Inver Grove, Minn.
Joseph is survived by five children, two sisters, Marcella (George) Hebaus, and Lillian Johnson, and 13 grandchildren and 27 great-grandchildren and one great-great grandchild.
He was preceded in death by his parents, his siblings and their spouses, Charles (Marcella) Huppert, Theodore (Anna Mae) Huppert, Herbert (Leona) Huppert, Clarence (Susie) Huppert, Vera (Gervais) Maier, Angie (Joseph) Falteisek, Robert (Donna) Huppert, and brother-in-law, Bob Johnson.
He worked as a dairy farmer and at Cargill. During his retirement he was self-employed and enjoyed visiting. Veterans had a special place in his heart and he was a member of the American Legion for 49 years.
He loved horses, especially draft horses throughout his life. He enjoyed Sunday outings in his Model T. Joseph was a member of Cross Road Community Church in Ellsworth. He loved the Lord and served Him faithfully.
A Funeral Service was held on Thursday, October 6, 2022 at 11 am at C3 – Crossroads Community Church W7562 US Highway 10, Ellsworth, WI 54011 and streamed lived through the link just below this obituary.  Visitation was also on Thursday, October 6, 2022 from 9-11 am at the church.  Interment was on Friday, October 7, 2022 at 1 pm in Ft. Snelling National Cemetery in Minneapolis, MN.  Arrangements are with Bakken-Young Funeral & Cremation Services.
Click here to watch the recording of Joe's service.