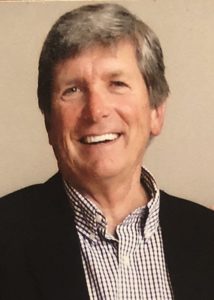 IN LOVING MEMORY OF
JOSEPH A. BEUNING
April 18, 1948 – April 8, 2019
Joseph (Joe) Alphonse Beuning was born April 18th, 1948 in St. Cloud, MN to Alphonse and Esther (Korte) Beuning.  Joe and his 10 siblings were raised on the family farm in Melrose, MN and attended elementary school in a single room schoolhouse.  He graduated from Melrose High School in 1966 and was drafted into the Army.  He spent two years serving his country with the 140th Military Police Company in Georgia and the 188th Military Police Company in Vietnam where he was awarded the Bronze Star and Medal of Valor.
Joe returned home in December of 1969 to his high school sweetheart (Beverly Denne) and an overjoyed family including a baby sister that he had not met.  In January he returned to school (St. Cloud State) and started a job as a floor orderly and ER technician at the St. Cloud hospital.  He was working toward a degree in biology when Dr. Neva Gonzales suggested he apply for a new program in the medical profession.  Joe enrolled in the program and became one of the first Physician Assistants (PA) in the Midwest.  He and his classmates were pioneers, the first to work with physicians, nurses and patients who didn't really understand the new role.
Joe married the love of his life, Bev, on August 22, 1970.  Bev taught in Holdingford, MN while Joe completed his degree and worked at the hospital.  After graduation Joe, Bev and Andrea moved to Austin, MN where he worked for a year before the family moved to New Richmond in 1976 with their newborn son, Craig.
Joe worked hard to establish and cultivate strong relationships with co-workers and patients while also working with Bev to establish family roots in their "new" hometown where Eva was born.  Joe's ability to relate to everyone made it easy for him to meet people and he very quickly became involved in numerous aspects of this community. He believed that in order to be a good health care provider, he needed to participate in the community, volunteer and share in experiences with his friends, neighbors and patients.  For many years he served on the Holy Family Hospital board, later the Westfields hospital board and then the Westfields Foundation Board. He volunteered at the Free Clinic in River Falls and served on the New Richmond Community Foundation board.  Joe was a charter member of the New Richmond Rotary club, hosted several exchange students, worked Ski Patrol at Trollhaugen, was active at Immaculate Conception Church, was a member of the VFW and helped establish the western Wisconsin bike ride in support of The Highground.
Joe was able to relate to so many people because of his many interests and life experiences.  Patients quickly realized he could see beyond their symptoms and connect with them on a more personal level.  He shared this philosophy with sixty PA students and for his efforts he was awarded "Preceptor of the Year" from the University of Wisconsin, Madison in 2016.
In his "spare" time Joe loved to hunt, fish, golf, ski and spend time with his family…especially with his grandchildren.  Joe loved to challenge himself with distance events including skiing the Birkebeiner, running marathons and completing The Ride Across Minnesota (TRAM) and MS150 bike rides.
Joe was preceded in death by his parents Al (2001) and Esther (2016), his older sister Georgianna (1954), and his father-in-law, Raymond Denne (1997}.  He is survived by his beloved wife, Bev and their children Andrea (Mike) Shumaker, Craig (Dr.Courtney) Beuning and Eva (Jay) Groth, grandchildren Carolyn and Max Shumaker and Lewis, Laurel and Leo Groth.  Surviving siblings include Bernie (Linda) Beuning, Urban (Arlene) Beuning, Ada (Gerry) Daniel, Mike (Judy) Beuning, Geralyn Beuning, Mary (Butch) Niehaus, Paul (Mary) Beuning, Earl Beuning and Sara (Scooby) Toenies as well as Bev's siblings Linda (Gene) Krautkramer, Roy (Deb) Denne, Elaine Denne, Rita (Gary) Moening, Marv (MaryBeth) Denne, Mary Ellsworth, Gary Carlson and mother-in-law Anna Mae Denne.  Extended surviving family members include numerous nieces, nephews, cousins and his aunt Arlene Beuning. A Memorial Mass of Christian Burial was held Monday, April 15, 2019 at noon at Immaculate Conception Catholic Church (151 South Washington Avenue New Richmond, WI 54017) with visitation starting at 10:00am. Military Honors was performed by the VFW Post 10818 of New Richmond. A visitation was also held on Sunday, April 14, 2019 from 2:00-6:00pm at the church with a scripture service starting at 6:00pm. Arrangements are with Bakken-Young Funeral & Cremation Services.