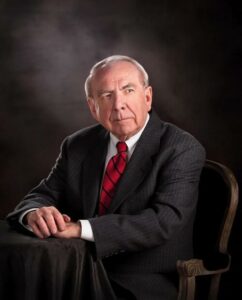 It is with great sadness that we announce the passing of John Soderberg of New Richmond, WI on March 13, 2023. John will be greatly missed by his family, friends, colleagues, and community members.
As a second-generation owner of First National Community Bank (FNC Bank), John focused tirelessly on community and economic development in New Richmond and the Western Wisconsin region. While his efforts involved many civic achievements and resulted in countless successes for businesses and individuals across the area, the signature accomplishment of his life was leading the effort to build the much-anticipated St. Croix River Crossing from Stillwater, MN to Houlton, WI. Decades in the making, John persevered through many challenges to the project. His hard work and dedication resulted in the approval and completion of this critical infrastructure, which stands as a fitting tribute to John's ability to bridge the gap between competing interests. He understood the importance of bipartisanship, compromise, and ensuring a "seat at the table" for all points of view and interests. The result was an engineering marvel that satisfied various transportation, environmental, and aesthetic needs, and one which will serve the Twin Cities metropolitan area and Western Wisconsin for decades to come. While he would always deflect any praise for this accomplishment to the many others who also contributed mightily to the bridge becoming a reality, John remained a driving force throughout the many times the project was considered an impossibility.
John began working for the bank in 1964, under the watchful eye of his father Henning. He learned about banking from the ground up by working in various positions for several years, and he eventually succeeded his father as President and CEO upon Henning's retirement in 1987. John understood that a bank needs to have a larger presence to successfully serve a region such as Western Wisconsin, and he oversaw expansion of the bank to branches in Somerset, Hudson, and Dresser. More recently, beginning in 2012, he began the succession process which brought his son Scott and daughter Libby into the fold to continue his community banking legacy. Scott took the reins as CEO in 2020, ushering in another generation of Soderberg leadership and reinforcing the commitment that FNC Bank remain a community-focused institution.
A lifelong resident of New Richmond, John was an active member of many local organizations and contributed countless hours in support of the community that he called home. The fact of his generosity was well-known, but the great extent of it was not. Taking credit for anything was simply not in his nature. John will be remembered for his empathy and concern for those around him in the community that he loved.
John was preceded in death by parents Henning and Marion Soderberg, wife Tini Soderberg, brother-in-law Richard Brust, and nephew Paul Alexander. He is survived by sisters Joan Brust and Sally Alexander (Rod), son Scott Soderberg (Cathy), daughter Libby Soderberg Chollar (Andy), grandchildren Grant Soderberg (Ashlyn), Derek Soderberg, Sam Chollar, and Sarah Chollar, great-grandson Carson Soderberg, and many loving nieces and nephews.
Visitation took place at the R&D Banquet Facility (Ready Randy's), 1490 131st St., New Richmond, WI, on Thursday, April 20, 2023, from 1:00-4:00 pm, followed by a memorial service at R&D from 4:00-5:00 pm. Thereafter, the family invited attendees to share their favorite John stories at a reception at R&D from 5:30-7:00 pm.
Memorials are preferred as donations in the form of non-perishable food items or monetary contributions to one of the following four organizations fighting food insecurity for families and individuals in our Western WI communities: Five Loaves Food Shelf in New Richmond; Somerset Community Food Pantry; Hudson Food Cupboard; and Open Cupboard Food Pantry in Osceola. Donations of either kind may also be dropped off at any of FNC Bank's branches in New Richmond, Somerset, Hudson, or Dresser.
Arrangements are with Bakken-Young Funeral & Cremation Services.