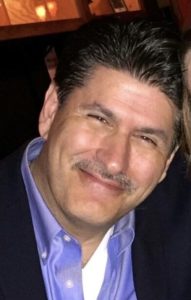 John P. Humphrey, age 57, died on Tuesday, December 28, 2021 at Sacred Heart Hospital in Eau Claire, WI. John Patrick Humphrey was born to James and Marie Humphrey on July 9th, 1964 in Saint Paul, MN. He is the youngest of four brothers, Robert, James and Thomas. He is preceded in death by his parents, James and Marie.
In his short 57 years on this earth, John was a true example of a devout Catholic, a loyal husband, a loving father, a guiding friend and selfless worker.
John married the woman of his dreams, Kimberly, on November 30th, 1990 and that is when their love story began. They were married at Saint Agnes Catholic Church with a simple yet beautiful wedding and shortly after, they moved to Oakdale to grow and raise their family. With six children, four grandchildren and one on the way, he showed his unwavering devotion and support to each and every one.
He was a tough love teacher.
A life coach.
A provider.
A shoulder to cry on.
A selfless soul.
John was an avid lover of the outdoors who passed along his appreciation for nature to his family. Many years were spent camping, hiking and fishing in the Boundary Waters. His family's eyes were opened to the high mountains and the open plains as they frequented his favorite place in Montana…Big Sky. He enjoyed nothing more than planning and creating these experiences for his family that built a very strong bond amongst them all and memories to be relived for a lifetime.
He was a dedicated employee at Metro Transit for 30+ years where he continued, with hard work and determination, to evolve in his career. Many long days and weekends, he set aside his own time to support his large family but occasionally we'd get the "I'm just closing my eyes for a minute" as he peacefully rested on the couch.
Many knew John as an outgoing, charismatic individual that when in his presence you were either going to get fed well, handed a cocktail, a life lesson, a little teasing and always that beautiful friendly smile. Whether you knew him a little or a lot, you could not help but like the guy.
Family was the light of his life but no light was brighter than that of his wife's. John and Kim were John and Kim…inseparable. They truly enjoyed each other's company, valued each other's opinions and shared the same dreams. Whatever life threw their way they conquered it as a team.
But what really inspired John to be the most amazing husband and father was his faith. His core values were strong and it was reflected in the small daily choices he made to consciously be a person of integrity, kindness, selflessness, loyalty and always grateful for what he had.
His memory will live on in our hearts and we are so thankful for all he did.
Because of him we have faith that we will one day be together. Because of him we know what a good person is. Because of him we know what true love is.
Mass of Christian Burial was held on Thursday, January 6, 2022 at 10:30AM at Transfiguration Catholic Church (6133 15th Street North) Oakdale, MN with a visitation starting at 9:00AM. Interment was in Guardian Angels Cemetery in Oakdale, MN.  The Mass of Christian Burial will be livestreamed via a link below the obituary. Arrangements are with Bakken-Young Funeral & Cremation Services.