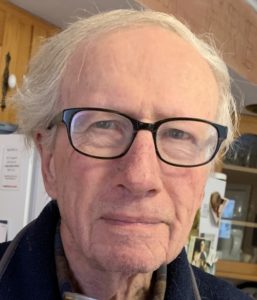 John Robert "Jack" Kenefick, 80, died peacefully at his farmhouse in River Falls, WI on Sept. 26, 2020 after living and struggling with cancer for 20 years. Jack will be remembered for his compassion, patience, listening skills and his lifelong service to others. He was proud of his military service in the U.S. Marine JAG Corps (1966-1969), his work at the MN Attorney General's office as well as his years representing medical professionals, hospitals and health care organizations at Briggs & Morgan in St. Paul, MN where he practiced health law for 40+ years. He was dedicated to serving others through pro bono work, volunteering with a wide variety of charities and non-profit organizations including the American Cancer Society, Children's Minneapolis Ethics Committee, the Kinnickinnic River Land Trust, Spring Valley Seniors Staying Put and the Navajo Churro Sheep Association, to name just a few.
He was equally proud of his 2nd Act as a farmer, moving to rural River Falls with his wife Julie in 1994. His horsemanship skills were sharpened by riding his beloved horse Cody as often as possible. On their farm, Jack & Julie dedicated their lives to raising Navajo Churro sheep, an endangered species whose wool is used by the Navajo to weave traditional rugs. Jack's love of animals was practiced on a daily basis, tending to their sheep and numerous other farm animals. His loyal dog Zoe was curled up at the foot of his bed when he died. His farmer life was incredibly well-suited to fun family times with his daughters Bridget, Kiki and Nicole and their families, including his grandchildren Blake, Anna, John, Hattie and Will who called him "Pa" as well as two step-grandchildren, Benjamin and Caedran.
Jack was a historian of his extended family. His many nieces and nephews loved that he was a storyteller about our family's Irish heritage.
Special thanks to all of the caring professionals with Adoray Home Health and Hospice. We are especially grateful to Hayley, Nancy, Theresa and Lisa for their consistent caring attention.
Jack is survived by his wife Julie, his daughters Bridget (Gerald) Swanson, Kiki (Wayne) Augustin, Nicole (Bill) Barth, his brother Tom Kenefick, five grandchildren and two step-grandchildren. In lieu of flowers, donations may be made to Adoray Home Health and Hospice or the Free Clinic of Pierce and St. Croix Counties. An immediate family only service will be held at Jack & Julie's farmhouse with military honors. We love you Jack/Dad/Pa! We miss you and will hold you in our hearts forever!