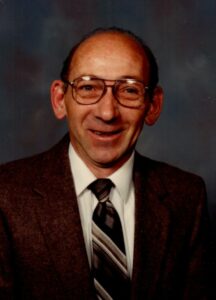 John Joseph Jilek, 83, died Thursday, September 29, 2022 at Christian Community Home in Hudson where he had been a resident for the past three years. John was born on December 7, 1938 in Rice Lake, Wi. He is the son of John Steven and Marie Rose (Stodola) Jilek.
John attended Holy Trinity Catholic School (Haugen, WI), Rice Lake, WI High School and Wisconsin Indianhead Technical College, Rice Lake campus. He held jobs in Dresser, WI, Becker, MN, and St Cloud, MN, and in the latter years of this employment lived in Clearwater, MN. During his retirement years, John lived in Fargo ND at Bethany Retirement Homes with his wife Betty.
John was preceded in death by his wife Betty Steil Jilek, his parents, sister Dolores, brothers Thomas and Joseph, brother-in-law Jerry Nunke, and sister-in-law Anne Jilek.  He is survived by sisters Mary Nunke (Eau Claire, WI)) and Sister Helen Jilek (Lisle IL), and brother Anthony Jilek (River Falls, WI), and sister-in-law Renee Jilek (River Falls, WI). He is also survived by daughter Paula Henry (husband Robert Kohler) West Fargo ND, grandchildren Edward Henry Tuscan AZ, Giles Henry (wife Sarah) Dayton MN, Madeleine Henry Fargo ND, great grandchild James Thomas Henry, along with many nieces and nephews.
John loved all of his family. He and Betty enjoyed trips to Rice Lake to visit his mom and family often. He was one of the "boys" during the Henry fishing tournaments on Big Birch Lake in Minnesota and won a trophy or two with the biggest catch. John loved to watch his grandsons play football and his granddaughter swim. Family barbeques were cherished times over the years.
John loved to fish. He and his wife spent many days together on the lake catching, and then cleaning, and eating their catch with friends. John was also a skilled woodworker and created lawn furniture for his church, friends, and family. He and his wife loved to play cards with friends and in their retirement years, never missing a game of Bingo or Farkle.
John had a great sense of humor and was a joy to be around. Faith was always first for John and Betty. Their deep devotion of God was demonstrated daily in prayer and kindness to others. John will be missed by many, however we know he is at peace with God and family.
A Memorial Mass of Christian Burial was held on Saturday, November 5, 2022 at 11:00 at St. Bridget Catholic Church (211 E Division St.) in River Falls.  The service was live streamed via the link found at the bottom of the obituary.  Visitation was on Saturday from 10-11 am at the church.Interment took place on Saturday, November 5th at 5:00 pm at Holy Trinity Catholic Cemetery in Haugen, WI.  Arrangements are with Bakken-Young Funeral & Cremation Services.
Click here to watch the recording of John's Memorial Mass