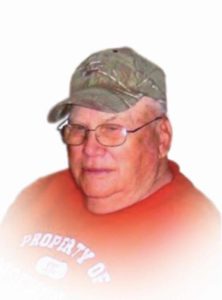 John E. Hofland, age 85 died Tuesday, February 12, 2019 at Regions Hospital in Saint Paul, MN. John was born the son of Edward and Selma (Stevenson) on August 7, 1933 in Horse Creek, WI. He attended Meadowview school until 8th grade. John was an Army veteran serving in the Korean War. He worked for BelCheese, F+A Dairy, and Saputo Cheese. John married Sylvia Bottolfson on March 15, 1975 at West Immanuel Lutheran Church. He enjoyed running his farm and visiting with the neighbors. John was a hard-working man but still had time for his family.
He is preceded in death by his parents, Edward and Selma; granddaughter, Emeline Nelson, four sisters, Eleanor (Louie) Larson, Evelyn (Bill) Griffin, VernaMae (Dick) Jorgenson, and Shirley (Glen) Jorgenson; and brother-in-law, Ed Bierbauer. He is survived by his wife, Sylvia; children, Geraldine (Mike) Zauhar, Susie (Mark) Lee, and Richard Hofland; grandchildren, Katie (Randolph) Kagel, Anthony (Natalie) Nelson, Samantha (Alex) Bush, Benjamin, Allie, and Daniel Nelson, Josephine and Christopher Zauhar, and Logan Lee; great-grandchildren, Philomena, Sebastian, and Callistus; brother, Leon "Bud" (Carol) Hofland; sister, Donna Bierbauer; and many nieces, nephews, relatives, and friends.
A memorial service was held Saturday, February 16, 2019 at noon at West Immanuel Lutheran Church (447 180th Street, Osceola, WI 54020) with a visitation one hour prior to the service. Military honors were performed by VFW Post 10818 from New Richmond. Private family interment will be in West Immanuel Lutheran Cemetery at a later date. Arrangements are with Bakken-Young Funeral & Cremation Services.