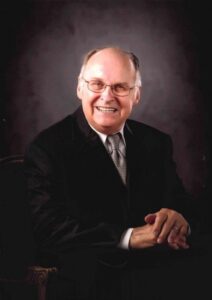 John Harlow Hirst, age 90, died peacefully on January 4, 2023, at St. Croix Health Center, New Richmond, Wisconsin.
John was born on October 5, 1932, to Ava and Gordon Hirst in Augusta, Illinois. John spent his childhood in Galesburg, Illinois, where his parents were teachers. He graduated from Galesburg High School in 1950. He studied engineering at Bradley University, Peoria, Illinois, graduating in 1954. John served in the US Navy from 1955 to 57, stationed in the North Atlantic.
John met his wife of 47 years Cherrill Ruth Eck, in the American Legion Concert Band in 1950 in Galesburg. Their love of music brought them together, and they were married on June 12, 1955, at the First United Methodist Church in Galesburg, Illinois. Together they raised five children; Jeffrey, Susan Julie, Leslie, and Lisa. John and Cherrill had 47 years of marriage filled with family, travel, camping, hobby farming, music, church activities, and much laughter. John and Cherrill were married until she died in 2002. John had a long career in engineering, taking him to positions in Illinois, Wisconsin and Minnesota. He designed machines ranging from outboard motors, parts for aircraft cameras, and a variety of packaging machinery. At age 85, John designed his last project, an automated bottling machine for the 45th Parallel Distillery, New Richmond, Wisconsin.
John met the other love of his life, Mary Norquist, in the Phipps Oratorio Chorus in Hudson, Wisconsin, where their mutual love of music brought them together. John and Mary were married on October 4, 2003, at The United Methodist Church in New Richmond, Wisconsin, and they enjoyed 19 wonderful years of marriage. John often remarked that he was the luckiest man in the world to have found great love twice in his life.
John was a unique individual. He was a dreamer and inventor, always thinking about his next project. His parents, both musicians, influence his great love of music. John was an excellent tenor, serving as president of his college choir and frequently featured as a soloist in many choral groups, church choirs, and barbershop quartets. He played the trombone in the US Naval Band; music was a common thread in his enjoyment of life, and he passed that on to his children.
He loved fixing old cars, was a beekeeper at one point, with the help of his children, grew 5 acres of cucumbers, and had a huge vegetable garden. John was not afraid of a solid weekend project adding a deck onto the house, installing an above-ground swimming pool, or erecting a greenhouse. Usually, these projects happened with the help of his two youngest children and sidekicks while his wife was away. John maintained his "can-do" attitude throughout his life.
John is survived and missed by his loving wife, Mary, of 19 years; his children, Jeffrey Hirst, Chicago; Susan (Jeff) Ketcham, Saint Paul, MN; Julie (Scott) Johnson, Bloomington, IN; Leslie (Mark) Kilgriff, Minneapolis; Lisa (David) Hirst Carnes, Minneapolis; grandchildren Dustin, Emily, Eric, Annie, Mitchell, Sophie, Samuel, Nina, Jackson and Leo; great-grandchildren Freya and Rhys; brother David Hirst, Kenosha, WI; daughter in-law, Cindy Ohlenkamp; and many other special friends and relatives. His parents, wife Cherrill, two infant children, and nephew Johnny Weinberger preceded him in death.
A Celebration of John's Life was held at The United Methodist Church, 209 East Second Street, New Richmond, WI, on Saturday, April 1, 2023, at 11:00 am and streamed live through the link just below this obituary. Visitation was from 10:00-11:00 am. Private interment was in the New Richmond Cemetery. In lieu of flowers, memorials are preferred to The United Methodist Church, New Richmond, Westfield Hospital Foundation, or the American Red Cross.
John always said, "if you can laugh in almost any situation, you've had a pretty good life."
Arrangements are with Bakken-Young Funeral and Cremation Services.
Click here to watch the recording of John's service