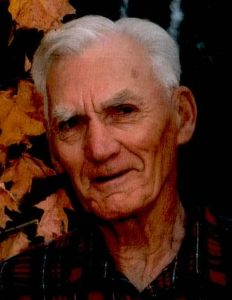 John Leslie Hanson, age 97, of River Falls, WI, passed away on Monday, October 2, 2017 at his home with family by his side. He was born July 8, 1920 on the Hanson Farm east of River Falls, the son of Leslie and Maggie (Taylor) Hanson. John attended the training school at the Teachers College and graduated from River Falls High School in 1938. He served in the 9th Armored Division, 19th Battalion, Company D, of Patton's Army during World War II, entering the service in 1942 and honorably discharged after the war had ended, arriving home in 1946 where he took up farming again with his dad. He was united in marriage to Alice Avis Holter in La Crosse, WI at the Trinity Lutheran Church on October 20, 1950. The couple farmed on the Coulee Farm just outside of River Falls that was established in 1866 by his great-grandfather William Taylor. John lived on this farm from the time he was 7 years old until the time of his death.
John enjoyed horses and was a member of the South Fork Saddle Club. He did not get a lot of opportunities to ride being busy with the farm but kept horses on the farm so his horse crazy daughters always had something to ride.
John enjoyed driving to Montana and Idaho to visit longtime friends and relatives with his wife and family. He often put his children before his own comfort, hauling his daughters to many horse shows and Larry to hockey before it was a school sport. He helped with many 4-H projects, horses, dairy and beef calves, ducks and geese, woodworking, and many others.
John was a dairy farmer until 1966 when he sold the dairy herd, then went into beef cattle and took a job off the farm. He was employed at the University of Wisconsin-River Falls for 17 years, retiring in 1985 as a maintenance mechanic. He was known there as being able to fix pretty much everything and if he did not have the right part he could make something that would work. He is best known for making the "Hanson Plug" for use in the steam tunnels and was presented a plaque of appreciation from his fellow coworkers upon his retirement. His patience shined through at work too as he was the only one who could make the old International pickup truck run, which everyone had nicknamed "Old Cough, Sputter and Die."
John continued to farm until 1992 when his son Al started running the ground and he enjoyed helping Al with farm work whenever needed.
John was very proud of the fact that he took his driving test to renew his driver's license in July of this year and passed it with flying colors!
He is survived by his loving wife of 66 years, Alice; his children, Linda (Ed) Neuberger of Mankato, MN, Susan (Denny) Monicken of Baldwin, Joyce (Dave) Connolly, Larry (Mary) Hanson, Al (Christie) Hanson all of River Falls, and  Ruth (Mark Hogenson) Hanson of Luxemburg, WI; grandchildren, Becky (Matt) Koehler, Tara Connolly, Tiffany Hanson, and Brittany Hanson all of River Falls, Serena (Nick) Dusek of Roberts, Sarah (Steve) Skinner of Glenwood City, Laura (Jarrad) Hannack of Spring Valley, Dan (Trish) Monicken of Baldwin, Troy (Rachel) Connolly of Prescott,  Maggie (Tony) Nygaard of McKinley, MN, Margo (Bruce) Neverdahl of Menomonie, Trent Hanson of New Hope, MN, Karla Hanson of Madison, and Emma and Sam Hogenson of Luxemburg, WI; great-grandchildren, Rachel and Ali Skinner, Skyler, Lilly and Caleb Beasley, Andrea Hannack, Mason Koehler, Dylan Connolly, Brooklin, McKinleigh and Collin Monicken, Cade and Bryce Neverdahl; and sister Jean Ann Glasbrenner of River Falls. John was preceded in death by his parents; his brother, Charles Edward "Ed" Hanson, brother-in-law, John Glasbrenner; and grandson, Brett Connolly. A memorial service was held Saturday, October 7, 2017 at 2:00 p.m. at First Congregational Church (110 North 3rd Street, River Falls, WI 54022). Visitation was held two hours prior to the service at the church. Private family interment in Greenwood Cemetery. Arrangements are with Bakken-Young Funeral and Cremation Services of River Falls.