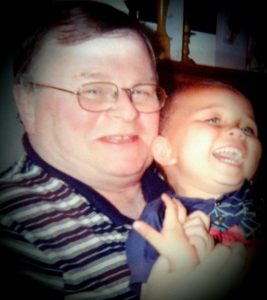 On December 18, 2016, I lost my dad, John W. Gaustad Jr., who was only 71 years old.
My mother, Martha Gaustad, lost her life-long friend, companion and husband of 44 years.
My son, Jared Gaustad, lost his grandpa, his buddy and best friend. My son and I both lost our hero.
It was too soon, unexpected, and unfair.
"Tomorrow is promised to no one."
I can still hear him, his voice saying that phrase from the time I was small to just a few short weeks ago.  I always knew what it meant, but never really understood the full impact and weight of these words until the day we had to say goodbye.
I have no doubts that where ever his journey takes him, his father, John W. Gaustad Sr., was waiting for him, as he has been for the last 16 years, with open arms and a guiding hand. By his side will be my Grandmother,  Elaine Gaustad,  who left us just four short months before my father felt her love wrap him in a hug to welcome him home.
My dad, John, always had a smile and ear or a kind word for anyone who was in need. Above all he was dedicated to his family making sure we all felt loved and were taken care of.
His sense of humor could make the bluest of people light up with a smile, and laughter replace the melancholy.
His favorite things, the wonderful varieties of the beauty Wisconsin had to offer ,Hunting, Fishing hiking, sunsets, but most of all the people that he knew and counted as his friends, he loved them all.
If I close my eyes I can see the Stampede of dogs that he played with and trained his whole life, being toppled over and buried amongst wagging tails, when he finally, now  at peace ,when home.
I know several people will miss him,  friends at the River Falls Sportsman's Club,  the Masonic Lodge, his colleagues at 3M, some working alongside him for the 30-plus years he was with the company.
So many memories, so many tears, but even more smiles.
How do I convey them all? Impossible.
With a heavy heart, I think of the wonderful man, my dad, my hero, and I remember my son Jared, when we were there and he arrived  home from work.
Both would have smiles and bright eyes. My dad would drop his briefcase and pick up the little man that ran into his arms yelling Grandpa, then they would sit down and start playing with the carefully placed figures Jared had spent a very long time setting up just right, Spiderman vs Hulk waiting for his grandpa to get home so they could play. Spiderman vs Hulk, two buddies playing, through one set of eyes this man was invincible and the best ever and the other set of eyes.. saw the most perfect person he could imagine and he loved him as much as that statement implies.
I love you Dad , we will miss you forever, until we see you again.
Thank you for joining us at the River Falls Sportsman's Club in River Falls on  Thursday, January 12, 2017 at 3pm to celebrate his life and give thanks we were blessed enough to have him in ours.
Oh, one more thing, hug  your Dad or Mom or both, because " Tomorrow is promised to no one" but if you have or had a dad like mine, he will be waiting with arms out, smiling, somewhere over the rainbow.
Arrangements are with Bakken-Young Funeral & Cremation Services of River Falls.