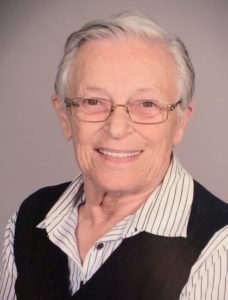 Joan Aileen Madsen, loving wife and mother, died Saturday, October 16th, 2021 at the age of 81 from Alzheimer's.
Joanie was born at home in North Hudson, WI on June 21, 1940 to Laura and Henry "Razz" Schullo.  She attended school in North Hudson through 1958 and graduated from River Falls High School in June 1959.
On June 13, 1959 she married Gerald Madsen at St. Patrick's Church in Hudson, WI. They met on a blind date that lasted 63 years.  The couple moved to Sacramento, CA for a year and a half while Jerry was in the Air Force and returned to River Falls in 1960 and started their family.
Joanie was a stay-at-home mom, raising daughters Julie and Patricia (Patty). She also babysat her nieces and nephew until later she went to work at the Red & White and Red Owl grocery stores. Joanie was the first meter maid in River Falls and no one escaped getting a ticket from her; she even gave herself a ticket. She managed Emo's Sub Shop where she enjoyed interacting with customers and creating her own recipes.
Summer family camping trips were always fun, and out-west road trips eventually led closer to home with a trailer in Minong, WI, where the family enjoyed being at the lake. Joanie enjoyed bowling leagues and tournaments, but the first time flying to Las Vegas would be her last on an airplane; after the captain executed a tilting maneuver, Joanie vowed never to fly again.
When Joanie's husband retired from the Post Office, she was excited to begin traveling and they spent many winters in Casa Grande, AZ. But the pull of the grandchildren at home was strong; family was the most important thing to her.
Joanie especially enjoyed teaching her grandchildren how to fish, and going deer hunting, especially when she got her first buck in her sixties. She enjoyed learning new skills and crafts and shared her hobbies with her grandchildren for their 4-H projects. She learned how to quilt and each daughter and grandchild received quilts over the years.
Joanie is preceded in death by her father, Henry "Razz" Schullo; mother, Laura Schullo; brother Jim (Wanda) Schullo; and brother-in-law Duane Hanson.
She is survived by her husband of 63 years, Gerald Madsen; daughters Julie (David) Melin; Patricia (Douglas) Nelson; grandchildren Tara (Aaron) Littlefield, Nathan (Kelsey) Melin, Hannah Melin, Connor Nelson, and Lyndsey Nelson; and eight great-grandchildren. She is also survived by sister, Betty (Chuck) Johnson; sister-in-law, Jeanine Hanson; brother-in-law, Bob (Thekla) Madsen, as well as many nieces and nephews and special "bonus" daughter, Dawn Larrabee Friedrich.
A Memorial Mass of Christian Burial was held on Friday, October 22, 2021 at 11:00 am at St. Bridget Catholic Church (211 E Division St.) in River Falls. Her service was livestreamed via a link found at the bottom of this obit.  Visitation was also on Friday from 10-11 am at the church.  Interment was in St. Bridget Cemetery.  In lieu of flowers, memorials may be given to the Alzheimer's Association.  Arrangements are with Bakken-Young Funeral & Cremation Services.