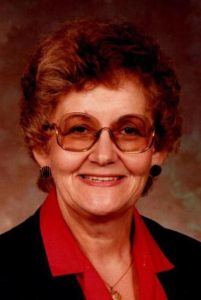 Joan Bystrom, age 90, of River Falls passed away Sunday, March 22, 2020 at the Kinnic Health and Rehab. She was born at (hospital) in River Falls to Newton and Edith (Clausen) Pearson on December 5, 1929.  Joan's life started on the Pearson farm in Mann Valley and after graduating from Minnehaha Academy, she worked in Minneapolis for a time, until she was joined in marriage to Gaylord Bystrom on June 3, 1949, at First Covenant Church in River Falls.  They raised their family in River Falls with Joan often helping in the office of their business, Bystrom Heating and Air Conditioning, located in the old mill building on main street. Through the years she was also a Welcome Wagon greeter, visiting new residents to welcome them to River Falls and helping them get familiar with all that her town had to offer. Joan was a Weight Watcher leader (15 years) and led meetings in River Falls area several surrounding towns.  Many summers were spent at the cabin on Deer Lake near Spooner, Wisconsin. The Newton Pearson's and the Bystrom's had cabins there which were filled to capacity with aunts, uncles. cousins and many friends over the years.  In the 1980's Joan and Gaylord decided to live in a property they had owned where they had rented out apartments in Maiden Rock, Wisconsin. They soon lived out a dream of owning and operating an antique store and turned part of the building into a beautiful
little shop of special finds. This move was fondly remembered as some of the best years of their life as they met people from all over the world, traveling the Great River Road scenic drive, with many folks seeking special antique treasures to take home with them.  Joan collected books about antiques and antique laces and she became an expert at restoring antiques linens. She was also a Mary Kay Cosmetics consultant in the area and had many customer friends for miles around. For health reasons, they later sold the building and moved back to the River Falls area. Joan had a lifetime love for reading and was a frequent visitor in the First Covenant Church Library.  She also had a love for words and kept a dictionary next to her reading chair, looking up and learning the meanings of any words with which she was unfamiliar.  Growing up on the family farm, Joan remembers her father, Newton reading from the Bible and leading family prayer around the table and they were always a family committed to their faith in God. Joan was one of the oldest living members of First Covenant Church of River Falls and her parents and grandparents were charter
members at it's infancy in the area, beginning with Mission Covenant Church in Mann Valley. Throughout her life she enjoyed helping in the church, serving in Covenant Women and many other activities. She continued to enjoy participating in the worship services each Sunday as well as being connected to prayer line requests, fulfilling her final area of her service to God, in prayer ministry.  She was preceded in death by her parents, Newton and Edith (Clausen) Pearson, her
husband Gaylord Bystrom; sons Larry and Douglas; granddaughter, Rachael Bystrom;  brothers, Charles (Donna) and Donald Pearson; great-grandson, Caleb Clifford Bystrom.  She is survived by her daughter Debra (Rich) Lucero; sister Carol (Marlin) Krear; brother John (Sharon) Pearson; sister-in-law Evelyn Pearson; daughter-in-law, Char (fiance' Chas Pace) Bystrom; grandchildren; Jesse (Erin) Bystrom, Joel (Molly) Bystrom, David Lucero, Johanna Lucero, Sarah Bystrom, and great-grandchildren; Ezra and Zion Bystrom, Elijah, Isaac, Micah and Jonah Bystrom and many nephews, nieces and other beloved family members and friends!  A "Home-going Celebration" will be held at a later date.  Arrangements are with Bakken-Young Funeral & Cremation Services.