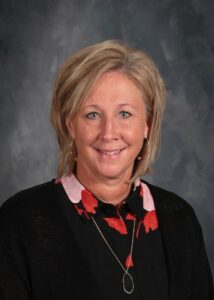 Jill Colleen (Cowan) Eckardt, 53, of New Richmond, WI passed away on April 30, 2023 twenty -one months after being diagnosed with grade 4 glioblastoma brain cancer. Her dignity, perspective and love shown through from the moment of her diagnosis, through three surgeries and her final days. Jill was born to KC and Gloria Cowan on March 10, 1970 in Elmhurst, Illinois, arriving several minutes ahead of twin sister Jennifer. The family, including older brother Josh moved to Chippewa Falls later that year. Jill was "always on the go" active throughout her life excelling in swimming, gymnastics and track for the Chippewa Falls Cardinals. Following graduation, Jill attended UW-Green Bay earning a swimming scholarship and competing four years for the Phoenix, graduating with a degree in human services. She furthered her education with a degree in elementary education from UW- Stout. She taught kindergarten at Stillson Elementary in Chippewa Falls and Roosevelt Elementary in Eau Claire. In 2008, she moved with her family to New Richmond and taught at Hillside Elementary School in New Richmond until January 2023. She was an incredibly vibrant and energetic kindergarten teacher mixing music and enthusiasm in an active and busy classroom. Jill loved her students and did everything she could to establish an important foundation for her students' future education.
On September 18, 1999 she married Casey Eckardt and they were blessed with two wonderful boys
-Cooper and Cal. She enjoyed adventures with "her boys," running, golf, ocean vacations and Friday fish fry. She grew to love baseball and Wisconsin Badger football and passionately watched her boys participate in football, basketball, hockey and baseball. She carried the load in getting the boys to all their events and was a loyal supporter, first of Eau Claire Memorial baseball and later New Richmond Tiger athletics, where she assisted in working athletic events. Jill made everyone she met feel important as she loved people and she was loved in turn.
Jill is survived by her husband Casey and boys Cooper (UW-Madison) and Cal (attending UW- Madison in the fall). She is also survived by her parents KC and Gloria Cowan of Chippewa Falls, brother Josh (Kim) of Hudson, sister Jennifer Bublitz (Karl) of Boynton Beach, Florida, in-laws Rueben and Rosemarie Eckardt of Birnamwood, sister-in-law Jill (Bill) Eckardt-Horstman of Denton, Texas and brother-in-law Michael (Risa) Eckardt of St. Paul, MN. She is further survived by nieces and nephews Madison, Charlie, Kyle, Celli, August, Joey and Leah as well as numerous aunts, uncles and the "Kansas City" cousins. The family also thanks her special friends who supported her throughout her illness: Kari, Kris, Amie, Jane and Carol and her special Kindergarten team of Tracey, Leah, Kelsie and Nicole.
Visitation was Thursday, May 4, 2023 from 4:00 – 7:00 pm at Bakken-Young Funeral & Cremation Services 728 S Knowles Ave New Richmond followed by a celebration of life at The Old Saloon (her favorite Friday hangout) 145 S Knowles Ave New Richmond from 7:30 – 10:00 pm. Mass of Christian Burial was Friday, May 5, 2023 at 11:30 am at St. Charles Catholic Church 810 Pearl St, Chippewa Falls, WI with visitation 2 hours prior to services. In lieu of flowers, the family asks that memorials be directed to the Jill Eckardt Scholarship fund: School District of New Richmond, Attn: Jill Eckardt Memorial Scholarship Fund, 701 East 11th St. New Richmond, WI 54017.  Arrangements are with Bakken-Young Funearl & Cremation Services.