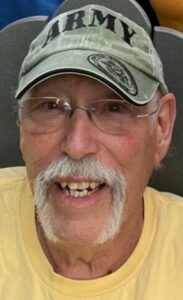 Jerry Weiss, age 77 of Roberts, WI, died on Tuesday, October 25, 2022 at his home. He was born the son of Thelma (Severe) and Harley Weiss on November 1, 1944 in Cedar Rapids, IA. Jerry grew up in Cedar Rapids graduating from Jefferson High School, class of 1962. Following high school, Jerry moved to the Twin Cities working for Control Data. After working in the Twin Cities, Jerry decided to enlist in the US Army, serving for four years from 1968-1972. Jerry was stationed in Korea for one year. He married Marsha Jensen on December 13, 1969 in Afton, MN. Jerry worked for Control Data for 25 years. He later worked for Sanborn Manufacturing and Stylmark until his retirement. Jerry was on the Roberts planning committee for close to thirty years. Jerry enjoyed grilling for the family and attending all his children and grandchildren's activities. Jerry loved golfing, hunting, and fishing. He always cheered on his Wisconsin sports teams. He was compassionate and caring. Jerry was a man of few words. He would always be there for those that needed him.
He is preceded in death by his parents, Thelma and Harley. Jerry is survived by his wife, Marsha; children, Kimberly (Dave) Larson and Bradley (Naoko Sands); grandchildren, Ellery and Elyza Larson, and Jase Weiss; brother, Richard (Enid); and many relatives and friends.
A Memorial Gathering was held on Saturday, October 29, 2022 from 11:00AM-2:00PM at Bakken-Young Funeral & Cremation Services (728 S Knowles Ave) in New Richmond. Private family interment was in Warren Cemetery in Roberts, Wisconsin. Arrangements are with Bakken-Young Funeral & Cremation Services.