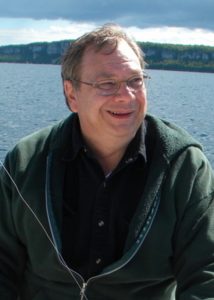 Jeffrey L. League, age 57, of River Falls, WI, died unexpectedly at home on Thursday, August 10, 2017. He was born August 5, 1960 in Saint Paul, MN to parents Omar and Marie (nee Gorg) League. He attended Hill Murray High School graduating in 1978. Following high school, he started working for Montgomery Wards Catalog Department and later worked at General Mills. He married his beloved wife Suzanne Sauter of White Bear Lake, MN in the backyard of the Sauter residence on May 21, 1988. Jeffrey started his own business in computer repair and maintenance and constructed tap dance mats. Jeff and Suzanne moved to River Falls, WI in 2002. Jeff was friendly, caring, and accepting of all. He had a passion for fly fishing and wood working.
He is preceded in death by his parents, Marie League and Omar (Alice) League; brothers-in-law, Byron Cooper and Harold Granger. Jeff is survived by his loving wife, Suzanne; siblings, Janice Cooper, Jean Granger, and Joan (Jimmy) Karnath; many nieces and nephews; and relatives and friends.
A Memorial Service was held on Thursday, August 17, 2017 at 11 am at Bakken-Young Funeral & Cremation Services 805 E Division Street River Falls, WI.  Visitation was held on Thursday from 10-11 am at the funeral home.  Memorials may be directed to the American Cancer Society.  Arrangements are with Bakken-Young Funeral and Cremation Services of River Falls.