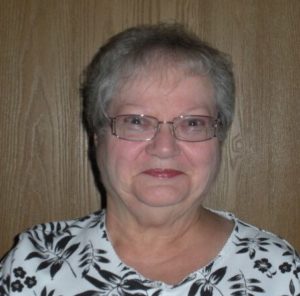 Jeannine L. Poulin, age 82, of River Falls passed away Saturday, January 13, 2018 at Christian Community Home in Hudson. She was born the daughter of Alvey and Donata (Martin) Doucette on June 22, 1935 in Grand Isle, ME.
Jeannine was family centered and enjoyed preparing and serving huge banquets for them. She loved being a grandmother and never missed a sporting, music or theater event her grandchildren were involved in. She retired from UW-River Falls after 28 years of service and kept busy by giving back to her community. She volunteered at the city Library and St. Bridget Catholic Church. Jeannine loved to play Bingo, knit scarves and bake her signature pumpkin bars. Her family remembers she could light up a room and once she started giggling, it was hard for her to stop.
Jeannine was preceded in death by the love of her life, her husband, Maurice L. Poulin, Sr. and her parents, Alvey and Donata Doucette.
She is survived by her son, Michael David Poulin, Sr., his sons, Ben (Beth) Hume and Michael David (Lauren) Poulin, Jr.; son, Maurice "Sonny" L. Poulin, Jr., his wife, Tracie and their daughters, Jackie, Stacie (Dan LaValle) and Michelle; son, Gary Poulin, his sons, Brian Maurice and Joseph David; daughter, Marybeth Latti, her husband, Mark and their children, Michael Evan and Elena Corrinne; 7 great-grandchildren, Kameelah, Elijah, Kathryn, Lucas, Bryanna, Leah, Harlan; siblings, Bertha (John) Jacobs, Roger (Linda) Doucette; very dear sisters-in-law, Sheila Hoyt and Dolores Arsenault and a special furry friend, Abby.
A Mass of Christian Burial was held Saturday, January 20, 2018 at 11:00 am at St. Bridget Catholic Church in River Falls. Visitation will also be Saturday from 9:30-11:00 am at the church. Interment was in St. Bridget Catholic Church Cemetery.
In lieu of flowers, memorials may be directed to St. Bridget Fellowship Hall, E. 211 Division St., River Falls, WI 54022. Jeannine devoted many hours volunteering in the Fellowship hall and it was her wish that memorials be given in her name for new kitchen equipment for the kitchen.
The family would like to thank the CNA's and nurses at Christian Community Home in Hudson for their attentive and loving care for Jeannine.
Arrangements are with Bakken-Young Funeral & Cremation Services of River Falls.