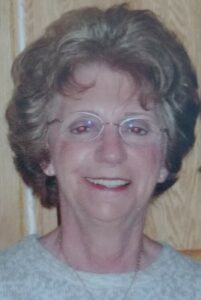 Jeanette Charlotte Fletch, 84, of New Richmond, WI died peacefully March 22, 2023 at Our House Memory Care in New Richmond, WI. She was born May 24, 1938, to Joseph and Lena (Schiefelbein) Cook. On July 22, 1960, she married the love of her life, Ray Fletch, who preceded her in death on June 30, 1997.
Ray and Jeanette loved to travel with their camper to Hayward, WI and bringing their grandkids with them. One of Jeanette's fondest memories was her and Ray's trip to Hawaii. She also had the opportunity to travel to Italy with St. Patrick's Church in Hudson, WI. She was able to see so many things that were important to her faith. Jeanette was also so dedicated to her nightly prayers and saying the rosary with her sisters. Jeanette loved playing cards, movies, singing, playing guitar, gardening, and watching the MN Twins.
She is survived by her children, Tammy (Randy) McKibben, Terry (Ali) Fletch, and Lisa (Tara) Olien; six grandchildren, Alisha Olson, Paige Hartung, Garret Fletch, Jordan Seifert, Peyton, Rylee, and Chloe Olien; nine great-grandchildren; many nieces, nephews, relatives, and friends who she loved dearly.
A special thanks to Our House Memory Care and Adoray Hospice for their loving care for Jeanette.
A Memorial Mass of Christian Burial was held on Saturday, April 1, 2023, at 12 noon at Immaculate Conception Catholic Church (151 S Washington Ave) in New Richmond with a visitation starting one hour prior to the service. Interment was in St. Bridget Cemetery in Stanton, WI. Arrangements are with Bakken-Young Funeral & Cremation Services.