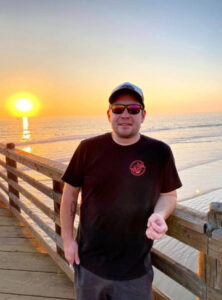 Lifelong River Falls resident, Jason Troy Getzie, 41, passed way unexpectedly, Friday, November 3rd, 2023 at his home in River Falls.
A celebration of his life will be from 1pm-4pm Sunday, January 7th at Kilkarney Golf Course, 163 Radio rd, River Falls, WI.
Jason was born July 29th, 1982 in Red Wing, MN and lived his whole life in River Falls, WI. He graduated high school in 2000 and shortly after started working at Muska Electric as an apprentice and worked his way to up to be a superintendent.
Jason was the glue who held his family together. To know Jason was to love him. His light shined so bright every time he walked into the room. If you want to do lessons in doing life right, take them from Jason, he lived life like it was a hobby and he knew how to do it best. He was always up for doing the dumbest stuff, having the most ridiculous conversations, and refused to ever act his age. Jason had the patience of a saint and the biggest compassion for helping others no matter who they were. He worked hard to play hard, he loved traveling, motorcycling, dirt biking, camping, you name it, but most of all he loved good food and scotch. He loved trying new restaurants all over the US. He was headed to New Orleans by train to try gumbo in the French quarter. He was a true adventurest!
Jason was preceded in death by his brother, Jesse Getzie, Grandmother, Glenda Getzie and Uncle, Terry Getzie.
He is survived by his Mother, Cindy Fuhrmann & Step-father, Bob Fuhrmann; of River Falls, WI. Step-Sister, Christey Fuhrmann of Bayport, MN, Nephew and Niece, Tyrrel and Macy Getzie; of River Falls, WI and Grandfather, Ron Getzie; Of River Falls, WI. Along with many close family members and friends who were all touched my Jason's big heart.
Memorial donations may be directed to the family at 821 W. Locust St. River Falls, WI 54022. Cremation services provided by Bakken-Young Funeral & Cremation Services.