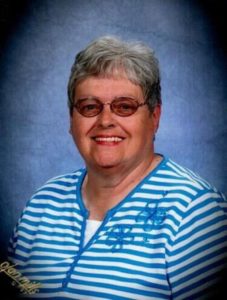 Janet "Grumper" Denucci, 76, passed away peacefully at her home in New Richmond, WI  on August 5, 2020. She was born September 25, 1943 in Amery, Wisconsin to John and Harriet (Jensen) Hurda. For the most part, Janet grew up in Roberts, Wisconsin, being the first class to graduate from consolidated St. Croix Central High School in 1961.
On June 24, 1961, she married John, "Cookie", Denucci at St. Bridget's Church in River Falls, Wisconsin. Janet drove school bus for St. Croix Central for 11+ years, getting to know many kids in the area through her bus route and driving to many away sports games. Janet enjoyed knitting and crafting, attending many local craft fairs over the years and selling items at several local shops. She is known for her love of her children, grandchildren, great grandchildren, husband John, Elvis Presley and the Green Bay Packers – the order of these depended on whether it was football season.
She spent summer weekends on Bone Lake near Luck, Wisconsin. When the kids were done with high school, John and Janet moved to Amery to enjoy life on the water year-round, on the Apple River Flowage. Time was spent enjoying family visits (pretty much every weekend), pontoon rides and many road trips with the grandkids. Following John's passing in 2004, she moved to New Richmond to be closer to family and long-time friends, joining Red Hot Red Hat Mama's.
We are grateful and blessed to have been able to spend two special weeks with her at the end, caring for her, loving her, laughing and crying with her – and, of course, listening to her sass.
Surviving Janet are her sons, Charles John (Kathy) Denucci and Chad James (Kris) Denucci; six grandchildren, Trisha (Nate) Stork, Tara Sosinsky, Torrie Rehder, Anna Denucci, Abby Denucci and Logan Denucci; six great grandchildren, Venizaiya Stork, Giovonni Stork, Vincent Stork, Rocco Stork, Brantley Sosinsky and Bo Sosinsky; and many nieces and nephews.
She was preceded in death by her parents, John and Harriet Hurda; husband John, "Cookie", Denucci; sister Judith Luehmann; daughter Anna Marie Denucci; and nephew Randy Luehmann.
A Celebration of Janet's Life was held on Wednesday, August 19, 2020 with a service at 3 pm followed by visitation from 4-7 pm at Bakken-Young Funeral & Cremation Services 728 S Knowles Avenue New Richmond, WI. Please dress casual, your favorite Packer attire is encouraged. All CDC guidelines including social distance and face coverings will be followed. Interment was on Thursday, August 20, 2020 at 11 am in St. Bridget Cemetery River Falls, WI. Honorary pallbearers are Michael Brase, Jenny Denucci, Shari Erdman, Sandy Goulette, Mary Shemon, Cathy Lindus. Memorials can be made to Lakeview Homecare & Hospice out of Stillwater.  Arrangements are with Bakken-Young Funeral & Cremation Services.