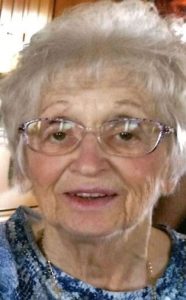 Jan Ascheman, age 78, of New Richmond, passed away with her husband by her side on Thursday, October 26, 2017 at the American Heritage Care Center in Hammond, WI. Janet better known as "Jan" was born in St. Paul, MN on January 23, 1939. She was proud to be a "13-year Aggie" as she graduated from St. Agnes Catholic High School, class of 1957. Jan married husband, Al on September 24, 1969. Together they lovingly raised their two children named Terry and Bill.
Jan and Al successfully owned and operated Willow River Electric, a family business, for over 25 years. Terry and Bill both eventually became co-owners of Willow and worked side by side with their parents.
Jan's character is hard to sum up and is like no other. She was the LIFE of the party and threw unforgettable parties including their annual 4th of July bash. Who could forget Jan's festive red, white, and blue attire or the epic firework show?! Jan was proud of her family and loved nothing more than family dinners and get-togethers. In fact, one of Jan's best qualities was that she made her guests feel welcome and part of the family.
In her spare time, Jan thrived and enjoyed many activities, including swimming, playing piano, traveling, and playing cards, cribbage being her favorite. One of her other favorite pastimes was participating in the Red Hats Club. To no surprise, Jan was the "Queen" of this organization and loved coordinating the women's outings.
Jan is preceded in death by her son, Joey; parents, Edward and Germaine Benysek; and sister, Mary Ellen.
She is survived by her husband, Al; daughter, Terry (Tom) Dalton; son, Bill (Amber); grandchildren, Christy and Tommy Dalton, Nicole (Derek) Fredrickson, and Kiefer Ascheman; brother, John (Peggy) Benysek; sister, Michelle Forsyth; several nieces and nephews; as well as many more extended relatives and friends.
Special thanks to the dedicated staff at American Heritage for caring for and comforting Jan throughout her stay. In addition, thank you to the Lakeview Hospice Team for managing Jan's care.
Faith played a significant role in Jan's life. In fact, Jan taught Catechism at St. Mary's and also was a Eucharistic Minister at St. Patrick's Church. Jan is now reunited with our Lord and Savior. May she rest in peace and continue to throw larger than life PARTIES!
Mass of Christian Burial was held Thursday, November 2, 2017 at 11:00 a.m. at St. Patrick's Catholic Church (1880 County Road G, New Richmond, WI 54017) with visitation starting at 9:00 a.m. at the church. Interment was in St. Patrick's Cemetery. Arrangements are with Bakken-Young Funeral & Cremation Services Beebe Chapel of New Richmond.