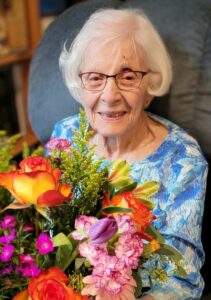 Janet I. Andrea, age 99, of New Richmond, went home to be with her Lord and Savior on February 3, 2023, at her son's home in Hastings, MN. She was born July 8, 1923 to Herbert and Eugenia (Fredrick) Wieland in Rice Lake, WI. After spending her early years in Turtle Lake, WI, she moved to New Richmond with her parents in 1935 and graduated from New Richmond High School in 1941. Even at 99 years old, Janet had an exceptional memory of people and times while growing up and living in New Richmond.
After graduation from high school, Janet worked at the Bank of New Richmond until she married the love of her life, Kenneth Andrea on October 23, 1946, after his return from service. She then joined her husband in the family business, Sanitary Dairy, as bookkeeper. To this union two children were born, Carla and Kirk. Ken and Janet were married forty-five years when Ken passed January 1992 in Palm Beach Gardens, FL, where they wintered after Ken retired. Janet enjoyed doing word searches, watching the birds and squirrels out her window, playing games with the great grandkids, and reading her Bible. Janet was a devoted wife, mother, grandmother, great grandmother, and great-great grandmother. Family was her pride and joy, and she was greatly loved by all the family.
She was preceded in death by her husband Ken, parents, Herbert and Eugenia Wieland, in-laws, Fred and Freda Andrea, and brother and sister-in-law, Dean and Nancy Wieland.
Janet is survived by daughter, Carla (Randy) Hansen, Palm Beach Gardens, FL; son, Kirk (Susan) Andrea, Hastings, MN; grandchildren: Jennifer (Erik) Rudl, Columbia, SC; Heidi (Dustin) Mizell, Atlantis, FL; Jonathan Andrea, Hastings, MN; Danielle York, Greensboro, NC; and Angela (Bradley) Gunter, Clermont, FL; great grandchildren, Nicholas (Savannah) Rudl & great-great grandson, Liam Rudl, Fort Jackson, SC; Haley (Austin) Stephenson, Maryville, TN; Loren (Preston) Pannell, Fort Stewart, GA; Riley and Reid Mizell, Atlantis, FL; Kenneth, Donna, and Ethan Andrea, Hastings, MN and Ezekiel, Elijah, Caleb and Sonja Blanchard and Noah York, Greensboro, NC; and Myka Gunter, Clermont, FL.
A celebration of Janet's life will be held at the New Richmond United Methodist Church, 209 East Second Street, New Richmond, WI on Saturday, April 29, 2023. Visitation will be from 10-11am, with the service to follow at 11am. Interment will be in the New Richmond Cemetery. Arrangements are with Bakken-Young Funeral & Cremation Services.
Click here to watch Janet's service live on Saturday 4/29 at 11 am