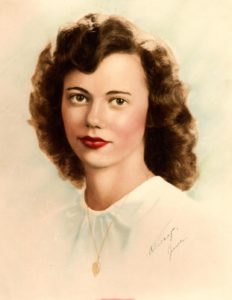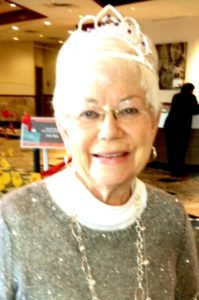 Jane Petricka Ritzinger passed on peacefully surrounded by family on November 06, 2021. She was born on January 15, 1927 the 4th of 8 children born to Agnes (Wolkerstorfer) & John Schneider, first generation Americans of Austrian & Hungarian decent and raised during World War II, Rationing, & the Great Depression leaving an indelible impression on their lives. Thanks to the family's strong Catholic foundation, they struggled yet flourished. Bypassing a private school full scholarship, Jane chose to work for S.S. Kresge Company in St. Paul where she met her husband Robert "Pat" Petricka. Married in 1947, the new family was transferred to many Kresge stores throughout the Midwest due to Pat's position with the company as an assistant manager to fledging locations. They both fell in love with River Falls and shy Jane found her voice announcing this was their final move; they could finally plant roots down in this perfect city. Sincere thanks to the city for embracing the family in a welcoming manner.
Jane restarted her career with the River Falls State Bank working for 35 years as she advanced to become a Vice President. She prided herself on calling clients by their full names & knowing their family history with the goal of always satisfying their banking needs. She was a member of the Hospital Auxiliary; the Housing Authority & St. Bridget's various social causes. Pat passed away unexpectedly in 1990; leaving a large void in Jane's life and in the community.
She became close to Dr. Richard C. Ritzinger as a client & through his volunteerism within River Falls. They married in 1993 and began making memorable adventures together. They enjoyed a life of RV travels, cruises, fishing, Arizona living, golfing & much happiness while creating a large "blended family" with blurred lines. Heartfelt thank you to the Ritzinger family for making that possible.
St Bridget Catholic Church and, most notably, Father Jerry Harris were paramount in Jane's life. Father Jerry was always available to support her even in her last hours on earth & encouraged her enroute to her Heavenly Home. We were blessed by his compassionate care, administration of special blessings; communion, prayers & medical know how, and most importantly, his friendship. None went unnoticed. Thank you Father!
Jane was deeply loved by her family and friends. She was an avid card player enjoying her various card groups and get-togethers with friends. The "Little Honeys" were a special part of her life. Even though her last months were challenging for her physically, she had her faith, Barb & family by her side. Thanks to technology, Jane was able to stay connect with her family near & far.
An extra special thank you to Leeanna "Anna" Klosowski, CNA. Sharing many private & medical moments with her "Ma", Jane called her our gem. Their reciprocated love for each other was apparent & Anna became a member of our blended family. Moments Hospice RN, Reena Murray, played a vital role in Jane's medical care acting as a liaison between patient and doctor & prescription assessments with Leah Gavin & her crew at Freeman's Drug to name a few. Walking us through the process of Jane's care and passing was invaluable.
Proceeding her passing were her husbands Pat Petricka and Dick Ritzinger, her siblings and spouses: Rita & Edmund Lesnar; Staff Sgt James Schneider, (MIA WW11, Purple Heart Recipient ); Rob & Dolly Schneider; Claire & John Rosenthal; Jack & Dolores Schneider; Betty Schneider sister-in-law; Mike Vincent, Jack Bryson, and Wally Petricka brothers in law, step son Paul "Whitey" Ritzinger; nephews Kevin Schneider & David Schneider.
Surviving Petricka family members are Barb Johnson; Andy & Adam; Tom Petricka, Donna Lucas & Max; daughters Laurie & Steve McNamara, Hunter & Dalton; Amy & Dr. Jerry Berends; Grace, Cole & Luke;
Sarah & Greg Tassi; Isaac, Connor, & Maggie; Brother Tom Schneider; Sister Mary R. Bryson; Dar Sery and Gerry Petricka sisters-in-law.
Blended surviving family members include Dr. Mark & Jean Ritzinger, Dr. Justin & Amei Ritzinger, Anne & Maggie; Bridget & Luke Ritzinger-Taylor; Dawn & Tom Wang, Jesse & Doug Foss, Gunner; Amy & Adam Larson, Taylor & Brody; Heidi Wang & Chris Fern; Ella & Olivia; Lori & Jeff Burks, Alex, Alina & Austin; Plus a swarm of Cousins, nieces, nephews and other relatives
To honor Jane's legacy, kindly consider praying for and participating in advancing World Peace especially in the US, for the safety of all Military Personal & First Responders, shop locally & donate to our local non-profit organizations, enjoy & aid in saving our local natural resources by protecting & conserving the Kinnickinnic watershed properties.
In lieu of flowers, at the family's request, kindly forward memorials to Jane's family to be disbursed to her favorite local non-profits.
A Memorial Mass of Christian Burial was held on Friday, November 26, 2021 at 3:00 pm at St. Bridget Catholic Church (211 E Division St.) in River Falls.  Visitation was also Friday from 2:30-3:00 pm at the church.  Interment was in St. Bridget Catholic Church Cemetery.
Arrangements are with Bakken-Young Funeral & Cremation Services.