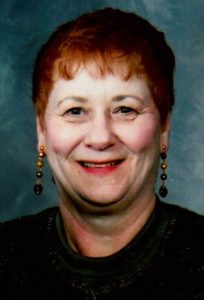 Jane Emily (Ristow) Peterschmidt, age 79, passed away peacefully on November 14, 2021, at Red Cedar Canyon Memory Care in Hudson WI with her loving family at her bedside.
Jane was born February 2, 1942, in La Crosse, WI to the late Harold and Monica Ristow. As the oldest of nine, she often found herself caring for her younger siblings which was the beginning of a lifetime of nurturing others. She met James Peterschmidt, the love of her life, while working as a teller at First Federal Savings Bank in La Crosse. They were married on her 21st birthday and moved to Eau Claire to start their 47-year marriage. Family was Jane's top priority as she lovingly raised their three children. She devoted endless hours and energy to Boy Scouts, Girls Scouts, Brownie troops, classroom volunteering, PTA, and leading religious classes to enrich not only her children's lives but also the children of the neighborhood.
Jane's house was a place of comfort for many. Her love of baking was well known and often filled the house with delicious aromas. Her baking skills were appreciated by many, especially her grandchildren. Her love of gardening added a touch of warmth and beauty to her home and backyard where her family and grandchildren spent many hours talking and playing.
Travel and adventure were a big part of Jane's life. Family camping trips took her to Alaska, across Canada, and through many parts of the US. After retirement, she and Jim spent many weeks travelling through the Western and Southwestern US. She loved to reminisce about her different adventures and would often talk of them even after dementia was stealing away her memories.
Thank you to the memory care staff at Red Cedar Canyon and St Croix Hospice for their diligent and compassionate care of Jane.
Jane was preceded in death by her husband, James Peterschmidt; her parents Harold and Monica Ristow; and siblings Ellen and Mark Ristow.
Jane is survived by her children, David Peterschmidt of Eau Claire, Daniel (Melanie) Peterschmidt of Wisconsin Rapids, Laurel Lorfeld of New Richmond and David Lorfeld of Sun City West AZ; her grandchildren Theodore and Thomas Peterschmidt, Allison and Kaitlyn Lorfeld; her great-grandchild Gavin Stockheimer (Theodore). She is also survived by her siblings Anne Kessler, Mary Ristow, Lorna (Edward) Koelbl, Susan (Cory) Rindner, John Ristow, Margaret (Steven) Doncov; sister-in-law Renee Ekstrom Ristow; as well as many nieces and nephews.
There is a special place in Jane's heart for her Birthday Club sisters; your camaraderie, shenanigans, and love, brightened her life immensely.
A Celebration of Life was be held on Saturday, November 27, 2021, from 11:00 – 2:00pm at Bakken-Young Funeral & Cremation Services, 728 S. Knowles Ave, New Richmond WI. A private family interment was in Northern Wisconsin Veterans Memorial Cemetery in Spooner, WI. Arrangements are with Bakken-Young Funeral & Cremation Services.