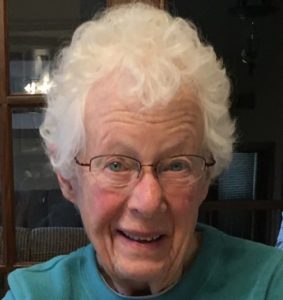 Jane passed peacefully on July 21, 2021 at Red Cedar Canyon, Hudson, WI from dementia.
Jane was born September 20, 1940 in Cleveland, Ohio to Herbert G. and Margaret L. Stannert and grew up in the Cleveland area, graduating from Berea High School. She attended Bowling Green State University (Ohio) majoring in Biology where she met her husband of 58 years, Robert (Bob) Jeffrey.
Their life adventure started in LeSueur, MN where Bob worked for the Jolly Green Giant. They ended up on a small farm south of LeSueur in Ottawa, MN where they had a number of horses, one of Jane's main loves in life. Sons Paul and David were born in Ottawa, along with half the county's mosquitos! Along with a deep love for all the creatures, Jane also enjoyed gardening and feeding the birds.
Jane showed her grit the winter of 1967 when Bob had to go to basic and AIT Army training for six months, leaving Jane at home with a month-old baby (Paul), 8 horses we were boarding to try to make some money to pay the bills, and no neighbors for almost a mile! Temperatures got substantially below zero and she used our old tractor and loader to move the snow. She was able to ask a good neighbor to look after Paul while she worked nights in the Bank, to help make ends meet. A strong, determined lady!
On to a bigger farm in Belle Plaine, MN where Jane was a mother, farmer, rural mail carrier, home remodeler, gardener and wife along with many other activities and adventures.
The couple then made several other moves to St. Charles, IL, Dousman, WI ending up in rural River Falls with, wait for it….more horses, cats and birds!
Jane loved the peaceful quiet of country living. She enjoyed sharing her country world with grandsons Ian and Isaac and granddaughter Kelsey. She grew lots of pumpkins to share and hosted some wonderful Pumpkin Parties for grandchildren and their friends.
Jane is survived by her husband, Bob, sons Paul (Sheree) of Belle Plaine, MN, David (Darcy) of Lake Elmo, MN, brothers Herb and Jim and grandchildren.
An event to celebrate Jane's meaningful life will be held at the family home on Sunday, August 8, 2021 from 1 – 4 PM. Address is W11167 County Road MM, River Falls, WI. Three miles east of the Clifton Highlands golf course on MM in Pierce County.
Cremation services provided by Bakken-Young Funeral & Cremation Services.