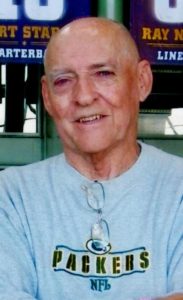 James Donald Stanek, 76, of New Richmond, WI passed away peacefully on Friday, June 7, 2019 at his home, after his courageous battle with cancer. He was surrounded by his family and special friend, Sharon (Shari) Larson.
Jim was born in Mauston, WI on January 11, 1943 to Donald and Anita (Block) Stanek. He graduated from Madonna High School-St. Patrick's Parish, in 1961. On June 29, 1963, he married Dorothy Pelton. They were blessed with two children, David and Samantha. This marriage was later dissolved. On August 26, 1989 he married Shirley Niecko, who died on October 14, 2011.
Jim worked as a spray painter at Perlick Corporation in Milwaukee. The family later moved to Hartford, WI in 1971 where Jim became a police officer in Menomonee Falls, WI. He was promoted to Evidence Technician with the police force for several years before his retirement on April 1, 1994. Upon his retirement, Jim and Shirley moved to New Richmond, WI and built their dream house. He began working with his father, painting and staining homes and businesses in the area.
Jim was always a storyteller and interested in genealogy, gardening and bird watching. Although he battled cancer and suffered great losses in his life, he always had a positive attitude. When asked how he was doing, he would say "Still Smiling". Frequently, he would tell you that his life was great.
Jim met Shari during grief counseling. They were blessed to have the love and companionship of each other the last few years of his life. They traveled together, enjoyed time at the campground in Chippewa Falls, and shared many celebrations with family and friends. She was by his side throughout his illness and took exceptional care of him, until his last breath.
Jim is survived by his daughter, Samantha (Greg) Tennis; stepson, John Niecko; stepdaughter, Melissa Niecko; 8 grandchildren, Joe, Cassie, Michael, Ryan, Thea, Chrissy, Justine, Erica; 10 great-grandchildren; brothers, Richard (Betty) of Madison, WI and Thomas (Pam) of Hudson, WI; sisters, Donna Kidd of Hudson, WI, Jane (Gerald) Johnson of Birchwood, WI, Terri (Thomas) Smith of Bloomer, WI; brother-in-law, Harold Heidtke of Madison, WI; former daughter-in-law, Sheryl Schabel; and special friend, Shari Larson.
Preceding Jim in death are his parents; wife, Shirley; son, David; great-grandson, Cameron Stanek; sister, Thaia Heidtke.
A memorial gathering for family and friends was held Wednesday, June 12, 2019 from 4-7 pm at Bakken-Young Funeral & Cremation Services (728 S Knowles Ave.) in New Richmond.
A funeral mass was held on Saturday, June 15, 2019 at 11:00 am at St. Patrick's Catholic Church (401 Mansion St.) in Mauston, WI. Visitation was from 10-11 am with burial in the church cemetery following the service.
The family would like to thank Lakeview Hospice, especially Sandi McBride for her compassion, the staff at Westfield's Cancer Center, and The Mayo Clinic.
Arrangements are with Bakken-Young Funeral & Cremation Services.