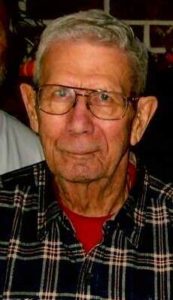 James E. "Choppy" Staberg, 97, of North Hudson passed away peacefully, surrounded by his family on Thursday, November 18.
James was born on July 6, 1924 in Hudson, to James C. and Bertha (Miller) Staberg.  He grew up in Hudson.  Jim enlisted in the Army during his senior year in High School and came back from basic training for graduation where he led his class wearing his uniform.  He served in the 11th Cavalry 36th Recon as a jeep mounted machine gunner and company bugler.  He fought in the Battle of the Bulge and at wars end instead of coming home was assigned to Nuremberg during the trials.  He was recalled during the Korean War but was stationed in Germany for the duration.
Jim was joined in marriage to Ruth Erickson on June 25, 1947 at Bethel Lutheran Church by Rev. O.C. Thompson.  Their marriage was blessed with three boys, Steven, Bruce and Kevin.  They were married for 69 wonderful years.
After serving his country, Jim worked for the American Can Company in St. Paul, Minnesota until his retirement.
Jim enjoyed hunting with his boys at the cabin, goose hunting in Canada, building and flying model airplanes, trap and rifle shooting, restoring his 1941 Army jeep, woodworking, and having coffee with his friends at County Market.
Jim is survived by his sons, Bruce (Pauline Vorwald), Kevin (Mary Karras); daughter-in-law, Debbie (Lorenz) Staberg.  Also, his grandchildren, Jessica, Elizabeth, Stephanie (Dave) Crowley, Greg, Brady and 4 great grandchildren, Cooper, Clayton, Hayden, and Tyler.
His wife, Ruth Staberg, son, Steven Staberg, brother, Fred Staberg, sister, Annette DeWitte, and his parents, James C. and Bertha (Miller) Staberg all precede him in death.
A Funeral Service was held on Friday, December 3, 2021 at 10:30 am at Bakken-Young Funeral & Cremation Services 805 E Division Street River Falls, WI.  Visitation was also on Friday, December 3, 2021 from 9-10:30 am at the funeral home.  Interment was in Ft. Snelling National Cemetery on Friday, December 3, 2021 at 12:30 pm. Arrangements are with Bakken-Young Funeral & Cremation Services.