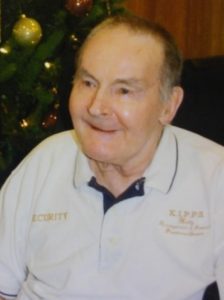 James A Route, 82, of New Richmond, Wisconsin, passed away peacefully in the attendance of his children, Tuesday, February 21, 2017. He was born January 2, 1935 to Kenneth and Dorothy Route. He attended Amery High school and loved to play basketball in high school. Jim was a fan of many sports.
In 1960, Jim married Pearl Ann Krueger (of Amery). They lived in New Richmond and had two children.  Jim worked for St Croix Press most of his career. He was always a hard worker and rarely complained about anything. Jim loved his family and looked forward to visits from all of them.
Jim loved sports. He was an avid football fan and a life-long Packers fan. Much to his families shock, he must have had a mental crisis late in life as he also started cheering for the Vikings. Throughout most of his life, Jim enjoyed biking, fishing and swimming. Jim took long bike trips that encompassed traveling to other towns such as Stillwater and Amery. In his younger years, Jim liked boxing with brother-in-law, Jack Romine. An outdoors fan, Jim loved camping and studying nature. He loved using his binoculars to watch deer, birds and look for bears. He loved bears. Jim also loved playing cards with his family. He was always "up" for a game of 500.
James Route was a member of First Lutheran Church (on 3rd Street) in New Richmond. He spent his last years at The Deerfield retirement and living center. Even as his memory faltered, he loved the staff and nurses who looked after him. They were always kind, caring and attentive. He enjoyed joking with them and teasing the nurses.
James Route is survived by his son, Keith (Robyn) Route of Anchorage, AK, and his daughter, Sally (Terrance) Brashaw of Freeport, IL.  Jim is also survived by 4 grandchildren: Katrina (Daniel) Oakes of Rockland, ME; Benjamin (Victoria) Johnson of Vernon Hills, IL; Anna (R. Levi) Carwile of Troy, IL; and Charles Johnson of Collinsville, IL. Jim was proud that he also had 5 step grandchildren: Aaron Banaszek, Cassie Banaszek, Jeffrey (Michelle) Brashaw, Brian (Chelsea)  Brashaw, Nicole (George) Lester, and many nieces and nephews.  Jim leaves behind one surviving sibling: Betty (Jack) Romine of Brooklyn Center, MN. He was predeceased by his parents and his sister Beverly (Pete) Cook. Jim will be especially missed by his devoted niece, Carrie Shore of New Richmond.
A Memorial Service was held Friday, February 24, 2017 at 11:00 am at The Chapel at the Deerfield 1127 W 8th Street New Richmond, WI.  Visitation was also on Friday from 10-11 am at the Deerfield.  Interment was in the New Richmond Cemetery.  Arrangements are with Bakken-Young Funeral & Cremation Services Beeb Chapel of New Richmond.