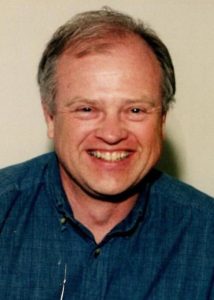 James "Jim" Myron Kuhn, age 78, passed away at home on Friday, April 22, 2022, after a long battle with Parkinson's Disease.
Jim was born on July 19, 1943, in Clear Lake, WI, to Myron Francis Kuhn and Ruth Irene (Kimball) Kuhn.
Jim graduated from Clear Lake High School in 1961. He earned an Associate degree in Accounting from Minneapolis Community and Technical College, and a Bachelor of Science in Business Administration from UW-River Falls.
He was hired by World Aerospace Corporation as a Cost Accountant and rose to Chief Financial Officer (CFO). He spent 38 years with the company until retiring in 2010. During his tenure he was fortunate to meet many of our country's astronauts.
Jim was one-of-kind, quiet, and unassuming with a ready smile. He was a son, brother, husband, father and friend. He was a farm kid, athlete, milk truck driver, WI National Guardsman, accountant and financial officer, coach, music aficionado, world traveler, animal lover, collector of autographs, and notorious for finding ways to meet famous people. Jim along with one other friend, Craig Nelson started girls soccer in River Falls.
Growing up in Clear Lake he participated in every sport offered, and he had hoped to be a professional baseball player. Many summers you would find him playing first base for three different softball teams.
Jim joined the Wisconsin National Guard in 1966 and did his basic training at Fort Lewis, Washington. His unit prepared to go to Vietnam, but when activated was posted in Madison, Wisconsin during the protests.
Jim participated in civil rights through Project Self Help and Awareness (PSA) by working in rural Mississippi and making a connection for many families and children between Mississippi and Wisconsin. Every summer for 15 years Jim drove a bus to Lexington. With others, including his wife and children was an ally in the fight against injustice. Alongside many significant civil rights leaders, he was fearless and determined to make a difference.
Jim married Roberta Jean (Bobbie) Fiet in Sparta, WI, on February 22, 1969. Jim loved road trips which included going to New Orleans and Miami in their first year of marriage. He took his family across the country including to South Dakota, Tennessee, Florida and California. Later he made it to the Caribbean, and enjoyed Europe with his sisters, Linda and Barb.
He also loved the Packers and attended at least one game a season. Finally, he secured Gold Package season tickets, which was a life-long dream.
Jim is survived by his loving wife and best friend of 53 years, Bobbie; two daughters, Stacy (Cory) and Jamie (Mike); his two sons, Jesse (Jamie) and Seth (Daisy); honorary daughters, Jeannette and Carolyn; fourteen grandchildren; sisters, Linda and Barb; and nieces, nephews and many other family members. In lieu of flowers, memorials may be directed to the Michael J. Fox Foundation for Parkinson's Research (Click here to donate). A Celebration of Life was held on Friday, May 20, 2022 at 11:00AM at Glen Park Pavilion (630-632 Glen Park Road) in River Falls with a visitation one hour prior to the service. Interment was in First Congregational Memorial Garden in River Falls. Arrangements are with Bakken-Young Funeral & Cremation Services.