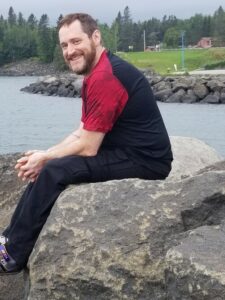 James E. Doyle, age 44, of River Falls, Wisconsin, passed away unexpectedly at home on March 23, 2023.
James was born October 12, 1978, in Minneapolis, Minnesota. He moved to River Falls when he was seven years old.
Jim attended school in River Falls, graduating from high school in 1997. He attended the University of Wisconsin, River Falls for two years. For a time, he lived near Austin, Texas and worked as a groundskeeper. Jim loved to cook and was employed for a number of years as a cook.
James was preceded in death by grandparents, Robert and Frances (Koch) Decker, Edmund and Anna Mary (Bauer) Dannecker; sister, Katie Doyle; uncles, John Eschenbacher and Mike Kelly.
James is survived by his sons, Jacob and Vincent Doyle; parents, Michael (Suzanne) and Peg Doyle; grandfather, Richard Doyle; aunts, Joan Hanson, Peggy Doyle-Rogers, Alice Kelly, Mary Thoemke, and Jane Eschenbacker; uncles, Edmund Dannecker and Christopher Doyle; and many friends.
Jim had a beautiful soul and empathy for animals. He had a sense of humor (that could be wicked), and he was always thinking outside the box. He was an intelligent, creative, talented and sensitive man.
A private gathering for family was held.
Arrangements are with Bakken-Young Funeral & Cremation Services.