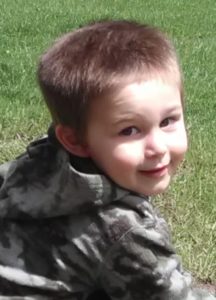 "There is no foot to small that it cannot make an imprint on this world"
Jacetin Lucas Campeau, age 4 was carried into heaven after a tragedy occurred on January 15, 2018 in the township of New Richmond, WI.
He was born on December 20, 2013 in Woodbury, MN and is the son of Samantha Richard and Andrew Campeau.
Jacetin loved to be outdoors and always enjoyed spending time playing with his older siblings and family. He was very intelligent and knew all of the names to every action figure and dinosaurs such as "cryolophosaurus." He was a little dare
devil who always had our hearts racing as he jumped or flipped off anything he could, he was truly fearless. Jacetin would zoom across a room to play with his favorite toys and would dance like no one is watching. The visions of Jacetin dancing are just one of the millions of things that will continue to play like a video in the back of our minds forever.
Jacetin will always be remembered for his innocence; as the one who beamed light all around him…
Jacetin had a personality like no other and a sense of humor that you don't see in many four year olds. His contagious smile and infectious laugh were just some of the things that made up his pure soul. As his teachers would say and it rang true in all of our hearts, "he had the best one liners."
From the moment, Jacetin was born our eyes gleamed in awe as we gazed at the most gorgeous child with the brightest eyes and longest eyelashes, thick, dark hair with the deepest dimples and a mischievous smile to match. Jacetin seemed to have a knowledge that was hard to explain. Even though he was young, he was so smart who had his own views on life as if in his own little world. Jacetin's kindness was that of an old soul, one that you could feel deep within your heart. We could have never imagined that the glue holding our large family together would be taken so soon. No one could ever imagine the heartbreak we feel and how forever missed Jacetin will be yesterday, today, tomorrow and for always.
He is survived by his mother, Samantha Richard; father, Andrew Campeau; brother, Jordan(13) and sisters, Jayla(12), Joanna(9) and many family members and friends.
Jacetin is preceded in death by his maternal grandmother, Shannon Reinhardt and grandfather, Robert Anderson.
A memorial service open to the public was held on February 10 from 3pm- 4pm at First Lutheran Church (218 County Road K) New Richmond, WI followed by a personal gathering with family & friends on February 11th from 1pm-4pm at The Grand Banquet Hall (301 2nd Street S) in Stillwater, MN
A marker will be placed in memory of Jacetin alongside his Maternal Grandfather Robert Anderson and Grandmother Shannon Reinhardt at Forest Lawn Memorial Park in Maplewood, MN.
In lieu of flowers, memorials preferred