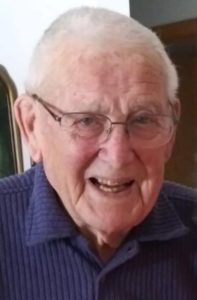 J. Robert "Bob" Stephens, age 90, died on Friday, May 20, 2022 at his home. He was born the son of John and Anna (nee Hicks) Stephens on April 16, 1932 in New Richmond, WI. Bob graduated from New Richmond High School, class of 1950. He was drafted into the US Army in 1952 receiving a purple heart. Following the service, Bob graduated from Dunwoody college with a degree in HVAC repair. He married Wanda Slipka on April 28, 1951 at Immaculate Conception Catholic Church in New Richmond. Following Wanda's death on June 6, 2000, Bob later married Avalon Heinecke on July 27, 2001 at St. Luke's Lutheran Church in New Richmond. Bob loved fishing, reading, and playing checkers. He was quick-witted with a sense of humor. Bob was dedicated to his church and family with a compassionate, kind heart. Bob served the town of Stanton faithfully, served as supervisor of the St Croix County Board, and was a 27-year volunteer firefighter. He was co-owner of Home Oil in New Richmond.
He is preceded in death by his first wife, Wanda; three infant children; daughter, Noreen "Reni" Menzel; parents, John and Anna; siblings, Tom, Alice May Anderson, John, Jean Landry, and Mary Simon. Bob is survived by his second wife, Avalon; children, Dennis (Holly), Sheri (Steve) Schellhaass; son-in-law, Charles Menzel; sister, Marge Lancello; stepchildren, Steven (Karen) Heinecke, Tom (Linda) Heinecke, Brad (Deb) Heinecke, Jeff (Cheryl) Heinecke, and Tammy (Mick) Johnson; five grandchildren; 27 step grandchildren; four greatgrandchildren; 36 step greatgrandchildren; and many nieces, nephews, relatives, and friends.
A Mass of Christian Burial was held on Wednesday, May 25, 2022 at 11:00AM at St. Patrick Catholic Church (1880 Country Road G). A Visitation was held on Tuesday, May 24, 2022 from 4:00-7:00 PM at Bakken-Young Funeral & Cremation Services (728 S Knowles Ave) in New Richmond and one hour prior to the Mass at Church. Interment was in St. Patrick Catholic Cemetery. Arrangements are with Bakken-Young Funeral & Cremation Services.