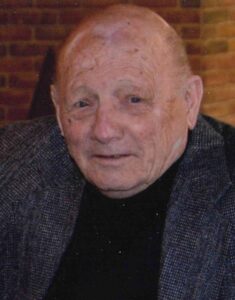 Ivan Iverson, age 97, passed away on Saturday, August 26, 2023, at his home in River Falls surrounded by family. Ivan was a Christmas baby. Born to Ingman and Gladys (Olson) Iverson in 1925. He grew up in Colfax, WI. Ivan enlisted in the US Army Air Force at the age of 17 and was very proud of his service as a flight engineer on the B-29. After discharge, he enrolled in college and graduated from the University of Wisconsin-Madison in 1949 with a pharmacy degree.
While working at Aamodt's Pharmacy in Baldwin, WI he met his bride of 72 years. He wed Audrey Edwards on July 7th, 1951, and to this union they added three daughters. In 1959, they moved to River Falls when Ivan started working at Freeman Drug, which he later purchased and remained the bald-headed fixture at the back of the store until semi-retirement in 1980. Selling the business, he then created the River Falls Pharmacy Service and continued to work part-time for another 10 years.
Ivan was an avid outdoorsman who enjoyed travel, camping with his family, hunting, and fishing… spending countless hours on the Red Cedar River, Canadian lakes, and Resurrection Bay in Alaska. He was also an ardent reader with an incredible memory for details and loved telling stories, which were shared with a twinkle in his eyes.
He is survived by his wife, Audrey; daughters, Barb (Larry) Larson, Ann Jenkins, and Kari (Bob) Owens; grandchildren, Jennifer Larson, Carrie (Lloyd) Stanfield, Elizabeth (Stuart) Matthews, Emily (Sam) Reeve, Joe (Julie) Jenkins, Tony (Jenn) Jenkins, and Jacob, Andrew, and Daniel Owens; great-grandchildren, Lloyd "Trip" and Austin Stanfield, Olivia and Hudson Matthews, Audrey and Brendan Reeve, Ivy and Macy Jenkins, and Mason and Ava Jenkins; brother, David; and numerous cousins, nieces, nephews, and relatives. Ivan is preceded in death by his parents; Ingman and Gladys; and sister, Irene.
In lieu of flowers, memorials may be directed to the family in memory of Ivan. A Memorial service was held on Friday September 8, 2023, at 11:00AM at Ezekiel Lutheran Church (202 S 2nd St) in River Falls with a visitation starting at 9:30AM. Military honors was performed by the Fletcher-Pechacek American Legion Post 121. Interment was in Greenwood Cemetery. Arrangements are with Bakken-Young Funeral & Cremation Services.