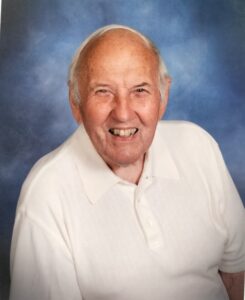 Irvin H. Sather – New Richmond
Died May 4th 2023
Irvin H. Sather was born on August 27, 1928 in Amery, Wisconsin at the home of his Grandparents, Arvid and Christine Liljenstrom. At two weeks of age, his parents, Ervin and Kathryn Sather, returned with him to their home in New Richmond.
He attended New Richmond Elementary School and graduated from New Richmond High School in 1946, where he had been active in school sports. Tennis was a lifelong activity and his crafty return shots were dreaded by his opponents. Pickleball also became a fun favorite in his later years. Hunting was another favorite sport. He graduated in 1950 with a B.S. Degree in Agriculture from the University of Wisconsin-Madison. There he joined the Alpha Gamma Rho (AGR) Fraternity and lived in that organization's house during his four years at the college. He was a member of the University R.O.T.C., earning a rank of army Second Lieutenant.
After graduation he worked as a salesman for New Richmond Doughboy Industries, Inc. The Korean War was on by this time, with the national military services draft in place. Irv knew he would soon be drafted, so he joined the army with his R.O.T.C. commission and was stationed at Fort Sheridan near Chicago. While at Fort Sheridan in 1953 he was married to Mary Arnet at the Methodist Church in her hometown of Hokah, Minnesota. The morning of the wedding day on February 28, 1953, Irv received word from a buddy back at Fort Sheridan that Irv's orders had come to report for overseas duty in Korea in June. The couple always joked that Irv "almost got away", but the wedding went on in the afternoon as scheduled. During the time that Irv was in Korea, Mary, a Registered Nurse, went back to her job in Asbury Hospital in Minneapolis, MN.
When Irv returned home from overseas, the couple moved out to New Richmond in 1954 and Irv went into business with his father, Ervin H. Sather, joint owning and running the Blue Ribbon Feed Company where they sold feed and products for all farm animals and poultry. Irv pioneered the application of chemicals to farmland with the purchase of the "Big A", a large sprayer machine used in the process. An unused cheese production building north of the feed store was renovated into a retail garden center, the first in New Richmond. Irv eventually sold the company in 2000 after nearly half a century of a very successful operation.
While active in business, Irv maintained a membership in the Wisconsin Feed, Seed & Farm Supply Association, was active on its Board and served a term as the organization's president. He also served on the Agriculture Research Council for the University of Wisconsin, Madison. All through his business career and beyond, Irv maintained an active relationship for many years with the New Richmond FFA (Future Farmers of America) association. Irv was active in the New Richmond Chamber of Commerce and he and Mary were honored as Citizens of the year by the Chamber in 1994.
The Sather Family Farm, homesteaded by Irv's great-grandfather, Even A. Sather, in 1874 near Deer Park, WI has remained in the family and is registered as a Century Farm with the State of Wisconsin. For about 30 years Irv and Mary kept a herd of purebred Angus cattle at the farm.
Irv and Mary Sather were deeply involved in New Richmond community life. They were members of the United Methodist Church and various other organizations. Irv was a founding member of the New Richmond Area Community Foundation, a member of the New Richmond Park Board when several additional city parks were developed, a working member of the New Richmond Pathways Committee, and helped initiate the development of the New Richmond Dog Park. Both Irv and Mary were involved in the organization, development and management of the New Richmond Heritage Center and its very popular Farmstead Flea Market. Over a period 42 years, Irv served as President of the Heritage Center Board or as the Center's Director. Irv and Mary were also very involved in the creation of two other community park assets, the Irv and Mary Sather Skylark Skate Park and the New Richmond Sather Nature Center.
Preceding Irvin Sather in death were his wife Mary Arnet Sather, his parents, Ervin H. and Kathryn Liljenstrom, and grandparents Andrew and Anna Anderson Sather and Arvid and Christine Liljenstrom. Irvin is survived by three children, Craig and Douglas Sather, Laura (Reuben) Lemunyete, and six grandchildren, Kyle, Emily, James and Marie Sather and Loiweti and Naiboku Lemunyete.
A Memorial Service remembering Irvin and Mary Sather was held at 1:30 pm on Sunday, May 28, 2023 at Bakken-Young Funeral & Cremation Services 728 S Knowles Avenue New Richmond, WI and streamed live through the link just below this obituary.  Visitation followed the service until 5:30 pm.  Private interment will be in the East Immanuel Cemetery.Arrangements are with Bakken-Young Funeral & Cremation Services.
Click here to watch the recording of the Service for Irvin and Mary