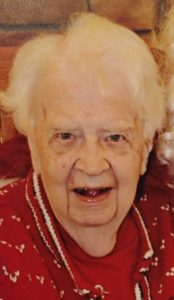 Irene Knoll was born on July 24, 1930 to Julius and Alma (Frank) Knoll. She was the third of six children. She attended and graduated from Clear Lake High School.
Irene never married and lived most of her life outside of Deer Park on the family farm and then in New Richmond. She worked as a daycare provider and seasonal worker at Friday Canning Company. She passed away after a short illness at Comforts of Home in Hudson.
Irene enjoyed doing embroidery, puzzles and reading. She participated in many activities at Comforts of Home. She especially enjoyed music and Bingo.
Irene is preceded in death by her parents; brother, Orville Knoll; sister, Lucille Knoll; sister, Esther Evenson and brother-in-law, Arlin and three of their children; sister, Clara Karpenski and brother-in-law, Frank. She is survived by sister, Doris Rodriquez; as well as many nieces and nephews.
A memorial service was held Saturday, January 12, 2019 at 9:30 am with visitation beginning at 9 am at Bakken-Young Funeral & Cremation Services (728 S Knowles Ave.) in New Richmond. Private interment will be at a later date in Calvary Cemetery in Deer Park. Arrangements are with Bakken-Young Funeral & Cremation Services.