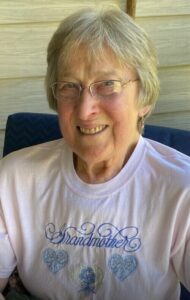 Ilene Ann Zielsdorf, age 78, of Deer Park, Wisconsin, passed away peacefully, on Saturday, November 4, 2023, at Hammond Health Services.  Ilene was born in Amery, Wisconsin to Ray and Irene Krueger on December 17, 1944.  Ilene graduated from New Richmond High School in 1963.
On September 4, 1965, Ilene was united in marriage to Harland Zielsdorf at St. Paul's Lutheran Church in Deer Park, the church where she was also baptized and confirmed.  Together they lived and raised their two children in Deer Park.
Ilene spent most of her working life in the service industry tending bar and waiting tables.  She loved getting to know her customers and enjoyed a nice peppermint on the rocks and Bud Light.
Ilene could be found playing solitaire on her kindle and reading books and magazines.  She loved doing crosswords puzzles, playing cribbage and would not pass up a scratch off lottery ticket.  Though Ilene liked camping, she wasn't much of the outdoors type but she did appreciate a good day fishing, as long as someone else would clean and cook them.
Ilene will forever remain in the hearts of husband, Harland; children, Dan (Tammy) Zielsdorf and Janet Zielsdorf; two grandchildren; great grandchildren; brother, Chuck (Chris) Krueger; in-laws, Marlene Koonst, Marv Zielsdorf, Kendra (Duane) Kostman, Duane (Deb) Zielsdorf; and many nieces, nephews, cousins and friends.
Preceded by parents, Ray and Irene Krueger; parents-in-law, Margie and Ted Zielsdorf.
A Celebration of Life for Ilene is being held on Saturday, December 9, 2023 at 1:00PM at Bakken-Young Funeral & Cremation Services, 728 S Knowles Avenue, New Richmond, Wisconsin, with visitation starting at 11:00AM.  Her service will also be live streamed on the link below this obituary.  Arrangements are with Bakken-Young Funeral & Cremation Services.
Click here to watch Ilene's service live on December 9 at 1PM