Mary Smith, was talking about supporting her family after the death of her own mother, "I have to be strong for my kids.   They need me to hold it together right now."   In unpacking that statement, Mary said that she didn't want to cry in front of her children that it would make them feel bad and they would begin to cry too.
What does it mean when we say, "I need to be strong…"?  Or when someone says to you, "you are so strong" what are they saying? Is this a euphemism for something else that we don't want to feel or we don't feel we can express in front of others, maybe even ourselves?  There are times when the tears will flow, the anger will lash out, the deep sorrow cause us to withdraw. Yet there are times when we don't want everyone to see that side of us or when we don't want to feel that side of our grief.  Many who try to help do not know what is needed for support.  Sometimes, we will even say insensitive things, trying to be helpful.  
Is Being Strong Okay?
So when you say, "I gotta be strong" consider why?  What is the reason you "have to be strong."  Is it because at this time and place you don't want to break down in front of others, especially children, so you try to control your grief?  Is it because the person you are speaking with doesn't really know how to support you in your grief?  Is it because you really believe "you gotta be strong" and that allowing your self the thoughts feelings and behaviors that accompany the pain of loss are too much for you to bear?  
William Worden, PhD in his Tasks of Mourning suggests that it is nearly impossible to lose someone we have a deep attachment to, without experiencing some level of pain.  Not everyone feels the same intensity of pain or feels it in the same way.  Yet it is important to acknowledge and work through this pain or it will express itself in other ways.  In other words, we need to allow ourselves to go through the "grief pit" as Ben Wolfe, LCSW, FT, shared.  
Don't Hide Behind the Pain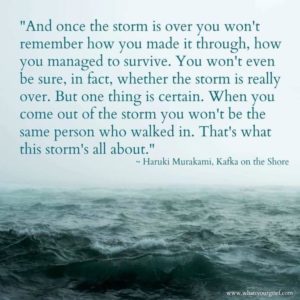 After the death of her husband, a widow now raising her son alone, said she was trying to be strong, but recognized that it was a façade?  She felt pressure into being what society encouraged, "strong", and anything less than strong was a self-perceived form of weakness.  Only after becoming claustrophobic in her grief, did she realize she could no longer hide behind the pain.  She made a decision to cry in front of her son so he could see the pain and accompany her in her process of working through her pain.  By doing so, she modeled healthy grieving, expression of the pain, and dialogue about it, developing a richer relationship with her son.
Having that outlet for the pain of grief can create a sense of continuing bonds, a sense of connection with the deceased, a sense of normalcy and a feeling of becoming emotionally stronger.  
To learn more about how Bakken Young Funeral Home can help you through your grief journey, visit our grief support page.