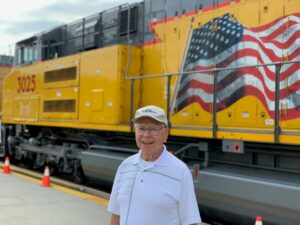 Rev. Henry R. Dreistadt at the age of 90 went home to be with the Lord on Wednesday December 14, 2022. Henry was born March 23, 1932 in Manor, PA the son of Nicholas and Sophia (Hoak) Dreistadt. Following high school graduation, Henry enlisted in the US Air Force serving during the Korean War. Upon discharge from the Air Force Henry started his schooling at Cleveland Bible College in Cleveland, Ohio later transferring to Bethany College in West Virginia.
Henry began his ministerial calling by first serving as a student pastor at the United Methodist church in Amity PA. During this time, he earned a history degree from Bethany College in West Virginia. In 1959 Henry moved his family to Wisconsin. Henry has served as the pastor at the following Methodist churches. 1959-1963 Brandon Wi. During this time, he attended Garrett theological Seminary in Evanston, Illinois earning a master's degree in theology. From 1963-1970 he was the pastor at Lake Geneva. 1970-1982 River Falls Methodist Church. 1987-1994 Green Bay, WI. 1994-1996 Pastor at Suamico Methodist Church. From 1982-1987 while living in Eau Claire, WI Henry was a District Superintendent. This role entailed providing supervision and pastoral support for the 98 churches in this district. After retirement Henry and his wife JoAnn returned to River Falls to be closer to their family. Henry was a very warm and personable man whose welcoming smile would light up any room he walked into. Henry felt a deep passion for helping others and has touched the lives of many people throughout his 60 years in ministry.
Throughout his life Henry has served on various boards and committees including Turning Point, River Falls School Board, North East Wisconsin Family Service Board of Directors, Habitat for Humanity, American Legion post 121, and Kiwanis Club, to name just a few. Henry was a hardworking and very generous and giving of his time to things that would benefit others and better the communities in which he lived. In 2009 he was voted Citizen of the year and was the Grand Marshall for the River Falls Day Parade.
Having grown up in the small railroad town of Penn, Pennsylvania Henry developed a lifelong interest in the railroads. He had a passion for and collected various model trains. A huge attraction for Henrys children and grandchildren was visiting Grandpa Henry and getting to operate the trains. He had them set up to run through and around the extensively large Christmas Village he had on display. Henry shared his love for the railroad by volunteering as a tour guide at the National Railroad Museum in Green Bay.
Above all Henry loved to spend time with friends and family, with 21 grandkids and over 40 great grand kids. He had a fulltime job attending their activities from birthday parties, sports games, tractor pulls, car drag races, music recitals and concerts. County Fairs, State Fairs, town parades, graduations, Easter Egg hunts, school and church plays, VBS and Sunday School Programs. Henry was so proud and honored to have baptized and officiated at the wedding ceremonies for many of his children and grandchildren. He never missed an opportunity to get down on the floor and play with the littlest members of his family.
He enjoyed Bridge, 500, Solitary and most other card and board games. Henry played with the Men's Bridge League in River Falls for many years. He was a big reader, history buff and Green Bay Packer fan.
While living in River Falls, he could be seen driving around in the 1936 Dodge Brothers Coupe he had restored.
Henry had several collections, with his favorite being the green Westmoreland Glass from his hometown factories in Pennsylvania.
Henry loved to travel and even at the age of 90 Henry was fun and adventurous. He was a very easy travel companion who always livened up the car rides by winning the trivia games, leading singalongs and sharing stories.
In addition to visiting almost every US State, Henry has traveled to Greenland, Germany, Egypt, Canada, Mexico, the Mediterranean, England, Singapore, Chili, Brazil, Israel and Kenya.
He is preceded in death by his wife, JoAnn (Ailport) Dreistadt; his parents, Nicolas and Sophia; siblings, Leonard (Dorothy), Ruth (John) Reidmiller, and Nicholas Dreistadt. Henry is survived by children, Steve (Jenny) Dreistadt, Sue (Steve) Watters, Karen (Brian) Gresback, Kathy Hilden, close family friend, Gretchen Link, brother Bob Dreistadt, sister in law Anne Dreistadt and first wife Dee Ann Dreistadt; step-daughters, Star (Chuck) Flanscha, Crystal (Mark) Larsen, Spring (Robert) Loberg, LaRee (Aaron) Peters; grandchildren; great-grandchildren; as well as numerous other relatives and friends.
A celebration of Henry's life was held on Saturday, January 7, 2023 at 11:00 am at Spirit of Grace Church (127 S 2nd St.) River Falls. Visitation was also Saturday from 9:30-11:00 am at the church. Private family interment will be held at a later date. Military honors were provided by American Legion Post #121 of River Falls. In lieu of flowers, memorials may be directed to the River Falls Food Pantry. Arrangements are with Bakken-Young Funeral & Cremation Services.
Click to see the recording of the memorial service at Spirit of Grace Church