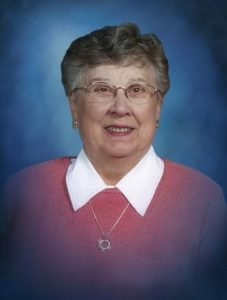 Helen Tveten, age 83 of Somerset, WI passed away on Monday, Oct. 3, 2016.  She was preceded in death by her parents, Alfred and Anna (Hallquist) Borup;  sisters, Effie, Alice, and Mae and brothers-in-law,  Chester Gustafson,  Harvey Dallman, Myron Anderson, Robert McLeod, and son-in-law Pat Griffin,  as well as her first husband, Gerald Kosek.
She is survived by husband, Dean Tveten of Somerset, Connie (Mark) Green of Forest Lake,  Kelly Griffin, of New Richmond,  Dawn (Phil) Parker of Bismarck, ND and Dana Tveten of New Richmond;  sisters, Edna (Alvin) Peterson of Green Bay,  Fran McLeod of Balsam Lake;  brother, Carl (Arlene) Borup of New Richmond,  cousin, Robert (Shirley)  Hallquist of Roseville, MN,  nieces, nephews and many friends.
Helen was born on July 29, 1933 at Luck, WI.  She attended Alabama Graded School in Laketown township., graduating from Luck High School, Class of 1951. Following her high school years Helen worked in downtown Minneapolis, MN at First National Bank for many years.
She loved singing in choirs and was among the proficient in the alto section.  She loved solving puzzles, fishing whenever she had a chance (even bullheads) and enjoyed the warmth of Arizona sunshine by wintering there for many years.
A Memorial Service for Helen will be held on Saturday, October 15, 2016 at 11 am at Christ Lutheran Church 510 Germain Street Somerset, WI.  Visitation will also be Saturday, October 15, from 10-11 am at the church.  Interment will be in Hillside Cemetery in Somerset.  Arrangements are with Bakken-Young Funeral & Cremation Services Beebe Chapel of New Richmond.