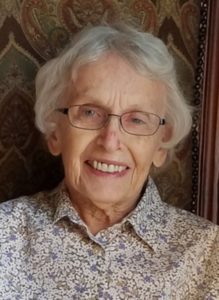 Helen L. Cox, 91
Helen Louise (Sohn) Cox, a longtime resident of New Richmond, passed away due to dementia-related complications on October 10, 2020 in Hopkins, Minnesota at the age of 91.
Helen was born on July 7, 1929 to Rev. Otto and Johanna (Reiher) Sohn in Niles, Michigan, and graduated from Flint (MI) Central High School in 1946. Following her graduation from Valparaiso (Indiana) University in 1950, she married Richard Cox and was married nearly 66 years until his death in 2016.
After returning to college and obtaining a master's degree in 1968, she worked for several years in higher education; first at WITC-New Richmond and then at UW-Stout, where she served as a reference librarian.
In addition to her husband Richard, Helen was predeceased by her son Walter in 1998. She is survived by sons Mark (Judy) and Lawrence (Kathryn), daughter Johanna Stratmoen (Douglas Fish), and brother Dr. Lawrence (Ellen) Sohn of Wauwatosa, WI. Helen is also survived by granddaughters Rebecca (David) Ford, Laura (Krishan) Dassrath, great-grandchildren Edison Ford, Morgan Dassrath and Eloise Dassrath, and many nieces and nephews.
A celebration of Helen's life was held on Saturday, October 24, 2020 at St. Luke's Lutheran Church in New Richmond, with a gathering of family and friends beginning at 10 a.m. followed by a memorial service at 11. Interment in the New Richmond Cemetery was private, with arrangements being made through Bakken-Young Funeral and Cremation Services.
Throughout her time in New Richmond, Helen was active in the church. In lieu of flowers, the family requests memorials be given to St. Luke's Lutheran Church or to any charity of the donor's choosing.