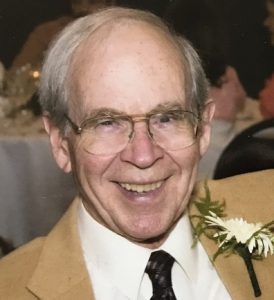 Earl Robert Hasselquist, age 87, of River Falls, WI passed away peacefully on November 10, 2017 in River Falls, Wisconsin after a several year struggle with Alzheimer's disease.
Earl is survived by his wife of 66 years, Joyce L. Hasselquist; son, Dr. Bruce (Jan) Hasselquist; grandchildren, Erik (Gwen) Hasselquist, Sarah (Jesse) Peterson, David, Matthew and Stephen Goldenberg; great-grandchildren, Fisk and Maeve Hasselquist and Ezra Peterson; and nephews and nieces.
He is preceded in death by his daughter, Dr. Susan M. (Michael Goldenberg) Hasselquist; brothers, Carl (Lorraine) Hasselquist and Paul (Olivia) Hasselquist; sisters, Alma Hasselquist and Mildred (Luverne) Tengbom.
Earl was born on March 4, 1930 in Center City, Minnesota, to parents, Oscar and Harriet Hasselquist. He bought the family dairy farm in Center City and farmed until 1962, when a farming accident forced him to make a new start in River Falls, Wisconsin. He subsequently graduated from the University of Wisconsin-River Falls in 1966 with a bachelor's degree in education earned his master's degree in 1969. He began his teaching career at Stillwater Junior High in 1966, where he taught junior high mathematics until his retirement in 1991.
He married Joyce Rundquist on August 25, 1951. Earl was a dedicated husband and a loving father and grandfather. He was a member of First Covenant Church in River Falls and served on a number of church boards. At home, he enjoyed working in the yard, especially with his favorite roses.
A Memorial Service was held Friday, November 17, 2017 at 2:00 p.m. at First Covenant Church (1374 North Main Street) River Falls, WI, with visitation one hour prior to the service. Private family interment in Greenwood Cemetery. Arrangements are with Bakken-Young Funeral & Cremation Services of River Falls.