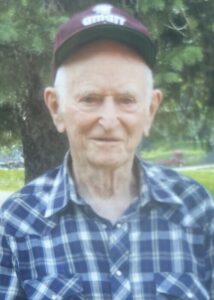 Harvey O. Pederson, age 96, died on Friday, September 29, 2023 at Golden Age Manor in Amery, WI. He was born the son of Oscar and Marion Pederson on July 15, 1927 in Eau Claire, WI. Harvey grew up around Eau Claire, WI attending school in the area. After school, Harvey worked in body shops in Eau Claire then moved to Deer Park where he owned his own body shop, Deer Park Auto Body. Harvey married Elaine Preston in Eau Claire, WI. They had three children, Gale, Sharon, and Dawn. Elaine died in February of 1969. After Elaine died, Harvey married Dolores Ranzinger in 1970. Harvey loved fishing, hunting, and dancing. He traveled around to the different churches looking for the best lutefisk. Harvey adored his grandchildren. He loved taking the grandchildren to the cabin and dressing as Santa during Christmas. Harvey enjoyed spending time at his cabin in Drummond, WI during any of the four seasons and always caught the largest fish. He was a hard worker and provider for his family as well as loved a good joke.
Harvey is preceded in death by his first wife, Elaine; second wife, Dolores; daughter, Dawn Kobernick; stepson, Tommy Gaskill; daughter-in-law, Brenda; and brother, Marvin (JoAnne). He is survived by his children, Gale Pederson and Sharon (Wesley) Kobernick; stepchildren, Margie Riggio, Jimmy Gaskill, Kathy Paquette; eight grandchildren, Melissa Brown, Dana, Michelle Smith, and Paul, Vince Kobernick, Robin Rivard, and Ryan Kobernick and Adam Kobernick; 17 great-grandchildren; sister, Vivian Thompson; and many other relatives and friends.
A Celebration of Life was held on Friday, October 6, 2023 from 3:00-5:00PM at Bakken-Young Funeral & Cremation Services (728 S Knowles Ave) in New Richmond with a short service beginning at 5PM. Interment was in Calvary Cemetery in Deer Park, WI. Arrangements are with Bakken-Young Funeral & Cremation Services.