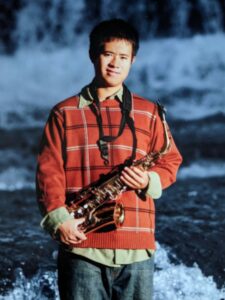 Hai Quoc Nguyen, a beloved son, brother, uncle, nephew, friend, musician, and educator, passed away on April 19, 2023, at the age of 31. He was born the son of Duoc Nguyen and Yen Lam and brother of Huong on May 28, 1991, in Ho Chi Minh City, Vietnam. Hai immigrated to the United States with his family at the age of two and grew up in New Richmond, Wisconsin. He earned his Bachelor's degree in Psychology from Carleton College in Northfield, Minnesota.
Above all, Hai enjoyed spending time with his close-knit family. He loved his parents, sister, and brother-in-law, Andrew. Hai was a devoted uncle to his nephews, Isaac and Calvin, and niece, Mirabel.
At a young age, Hai developed a deep passion for music, especially jazz saxophone. He was a skilled musician and enjoyed connecting with others through music. Hai carried his love of music into his adult life and enjoyed performing with various groups in the community.
In addition to his love for music, Hai was a dedicated educator. He had a special talent for connecting with students and saw potential in every individual. Hai often spent weekends providing free tutoring and coaching, determined to help students of every background. He was a lifelong learner and loved to travel, learn new languages, meet new people, and share his learnings with others. Hai's curiosity and thirst for knowledge were contagious, and he inspired those around him to keep learning and growing.
Hai's family, friends, and colleagues remember him as a kind, generous, and passionate person who always put others before himself. His legacy lives on through the countless lives he touched and the music he created.
A Celebration of Life with Memory Sharing was held on Sunday April 30, 2023 at 4:00PM at Bakken-Young Funeral & Cremation Services (728 S Knowles Ave) in New Richmond with a visitation starting at 2:00PM. Arrangements are with Bakken-Young Funeral & Cremation Services.