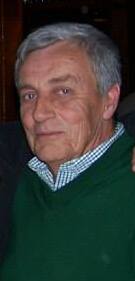 Quick with a joke, even quicker to help someone in need. For decades, Greg Walsh used his experience recovering from addiction to guide others along the same path.
Gregory William Walsh— a loving father, gifted mentor, and trusted friend, died from cancer February 17 at St. Croix County Health and Rehab Center in New Richmond, WI. He was 72.
Born October 30, 1950 in St. Paul, Minnesota, Greg would have only a short time with his father Earl, who died in an explosion at 3M just a few months later. The February 8, 1951 blast killed 13 people and is still considered one of the worst industrial accidents in St. Paul history.
Greg was the youngest of seven kids. After Earl's death, his mother Hildegard had her hands full, and she might tell you that she was kept especially busy with the mischief created by Greg and his brother Tom. Yet as an adult, Greg would proudly announce to his older siblings that "Hilde had kids until she got it right."
Greg grew up on the East Side of St. Paul, and graduated from Hill High School. He then attended UW-River Falls, completing a major in marketing.
In his twenties, alcohol and drug addiction kept Greg from reaching his full potential. But he has been clean and sober since March 24, 1981. His life after that day was defined by his recovery, and his need to help others do the same. Greg followed the 12-step program for more than 42-years, and sponsored dozens of others trying to beat the same disease that afflicted him.
As a sponsor, Greg was the person a recovering alcoholic would turn to in moments of doubt, a sympathetic friend when one is needed the most. That call could come morning, noon, or night, and Greg was always there to answer.
For more than eight years, Greg volunteered on the board of the Washington County, MN Offender Recovery Project, a specialty court that is designed to rehabilitate people who are addicted to alcohol and drugs instead of sending them to prison. Greg was fearless about advocating for people struggling with addiction, and he was proud to work with the board members to affect positive change in many lives.
Blessed with the "gift of gab," Greg was a salesman early in his career. He sold computers, cell phones, patios and decks, and life insurance policies, to name a few. But he found his true calling as a mortgage banker, working in the Hudson area for nearly two decades. His honest and efficient reputation became so well-known with contractors and home buyers that he was recruited by several area banks over the years.
On his off days, you would find Greg playing golf. He enjoyed playing on Saturday morning with his friends, and golf trips during the winter. While he loved the game, he valued the laughter and camaraderie just as much.
Greg fought through a lot of adversity in his life, the death of his father, rheumatic fever, his addiction, the economic crash of 2008 that cost him his house and his career, and finally, lung and brain cancer. He faced every one of these challenges with dignity and bravery.
Greg is survived by his only son Bill, who is very proud of him. He also leaves behind siblings, Tom and Maureen, and dozens of nieces and nephews. During his cancer fight, he valued the advice, care, and comfort given to him by his niece, Dr. Eileen O'Shaughnessy. And Greg will be missed by a close-knit group of friends, who surrounded him with love and support throughout his life.
A memorial service was held on Saturday, March 4, 2023 at 2:00 pm at Bakken-Young Funeral & Cremation Services (728 S Knowles Ave.) in New Richmond.  Visitation was also Saturday from 12:00 noon-2:00 pm at the funeral home.  Arrangements are with Bakken-Young Funeral & Cremation Services.