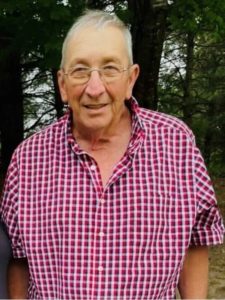 Gregory "Greg" Beebe, age 68 of Wanderoos, WI, passed away on August 4, 2022, surrounded by his family at Regions Hospital in St. Paul, MN after a brief, hard fought battle with cancer.
Greg was born in Ladysmith, WI to Roy and Iva Beebe. He grew up on the family farm in Bruce and was one of ten children. Greg had many different jobs and careers throughout his life including working in warehouses driving forklift, CNC machine operator, and having a firewood/chimney cleaning business. The last 6 years of his life were devoted to his favorite job of all time – farming.
Greg married his first wife, Vicki Gourdoux, in 1974, although the union was not permanent it resulted in two children, Brittany and Tim. Greg later met the love of his life Carolyn Snow while fishing at Mary Park in 2006. Greg and Carolyn were united in marriage on March 4, 2011. Greg and Carolyn enjoyed many things together including gardening, canning, fishing, spending time at Mary Park and on their favorite lakes, hosting fish fries and BBQ's with the kids and grandkids, deer hunting, chatting over coffee, and later farming which included raising beef, chickens, turkeys, and pigs.
Greg prided himself on having the best beef around and will always be remembered for that. He loved having repeat and happy customers. His cows were "his boys." Greg loved selling eggs from the farm as well and was always happy to show anyone that stopped by around the farm and to have a conversation. He was described by others as being kind and thoughtful and would always do whatever he could to help someone out. In addition to raising cows and being with his wife, family was his other greatest love. He always told everyone how proud he was of his daughter, son, and grandkids. He enjoyed having the kids out on the farm to do chores with him, feed the chickens, collect eggs, feed cows, and bottle feed the calves. He loved to joke around with the grandkids and give them a hard time, and they loved every minute of it.
Greg is preceded in death by his parents, Roy and Iva Beebe; brother, Mike; and sister, Debbie.
Greg is survived by his wife Carolyn; his children Brittany (Trent) Simonton, Tim (Brie) Beebe; stepchildren, Chesney Snow and Michele Foster; grandchildren, Brooke and Brodie Simonton, Sydney, Elyn, Gunnar, and Larsen Beebe, and Dori and Siobhan Foster. He is also survived by siblings, Judy (Don) Pounds, Pete (Ivy) Beebe, Don (Cheryl) Beebe, Ron Beebe, Craig Beebe, Renee Beebe, Bill (Denise) Beebe; and many nieces, nephews, and friends.
A Memorial Service was held for Greg on Tuesday, August 9, 2022 at 11:00AM at Bakken-Young Funeral & Cremation Services (728 S Knowles Ave) in New Richmond with a visitation starting hour prior to the service. Interment was in New Richmond Cemetery. Arrangements are with Bakken-Young Funeral & Cremation Services.