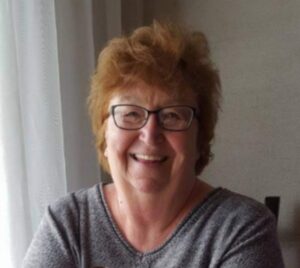 Grace Carol Radtke, age 76, of Roberts, WI, passed away at home on Saturday, September 24, 2022, surrounded by her family.  Grace was born in Marshfield, WI, to Joseph and Evelyn (Jantz) Graettinger on January 2, 1946.  She attended Corpus Christi Grade School in Bakerville, WI.  She was a graduate of Columbus High School in Marshfield, WI, and received her teaching certificate from Wood County Normal School in 1965.
On July 3, 1965, Grace was united in marriage to Norman Arthur Radtke at Corpus Christi Catholic Church in Bakerville.  They were blessed with 3 children: Linda, Greg, and Kristen.
Grace spent the early years of her adult life teaching elementary school at Sacred Heart Catholic School in Marshfield, WI, and then working as a substitute teacher at Arcadia Catholic School in Arcadia, WI.  In 1977, Grace and Norm took a leap of faith and purchased Norm's City Meat Market (later Radtke's Red & White) in Alma, WI.  They owned and operated the business until 1995.  Grace then returned to school to study accounting.  In 2004, they moved to River Falls, WI, to be closer to their children.  Her final job was as the Financial Assistant at the Church of St. Joseph in West St. Paul, MN, a job she loved and hated to leave.
Grace loved gardening, tracing her family tree and traveling.  She also loved her fur babies.  By tracing her family tree, Grace met family members she didn't know even existed and developed life-long friendships along the way.  Grace was working on traveling to all 50 states as well as the Canadian provinces.  She had 4 states (Connecticut, Massachusetts, Rhode Island and Hawaii left) and 6 provinces left to visit.  Her favorite trips were to Alaska (with her husband, children and grandchildren) for their 50th anniversary, Newfoundland and Iceland.  Surprisingly, she fell in love with the Louisiana bayous when she traveled there after another trip north was cancelled.
Grace was preceded in death by her parents, Joseph and Evelyn.  She is survived by her husband, Norman of Roberts; children Linda and Greg (Michelle) Radtke of Roberts, and Kristen (James) Bird of Madison; grandchildren Hope and Joseph Radtke of Roberts and Michael Bird of Madison; brother Richard (Annette) Graettinger of Cochrane, WI and nephews Scott, Jeff, and Garrett (Debbie) Graettinger of Cochrane, WI; and many cousins, in-laws and friends.  She is also survived by her beloved Boston Terrier, Oliver.
Mass of Christian burial was held on Saturday, October 15, at 11 am, at St. Bridget's Catholic Church in River Falls, WI, with visitation one hour prior. Burial was in St. Bridget's Cemetery, River Falls, WI.  In lieu of flowers, memorials are preferred.
A special thank you to St. Croix Hospice for all the care and assistance they provided to Grace and her family during the past two months.
Cremation services provided by Bakken-Young Funeral & Cremation Services.