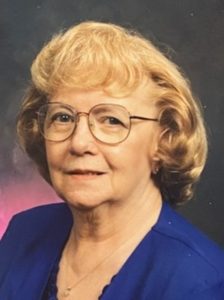 Gloria Mae Ross (Welch), age 91, passed away Friday, December 24, 2021, at Comforts of Home Assisted Living Center in River Falls, WI.
Gloria was born in Racine, WI on Wednesday, June 18, 1930, to the late Jess and Dorothy Welch (Last).
She attended Racine's Mygatt's Elementary School and McKinley Jr. High School. At the age of 16 Gloria began working as a switch board operator for The Wisconsin Telephone Company of Racine.
She was united in marriage to Hubert Ross (Roscizewski) on Saturday, August 9, 1947, at St. Louis Catholic Church in Caledonia, WI. Gloria and Hubert resided in Franksville, WI most of their lives and is where they raised their family. Gloria was a dedicated wife and mother of four. Hubert was a trucking owner/operator while Gloria took meticulous care of their home and attended to the busy activities of their four children.
She enjoyed bowling, ceramics, and a variety of adventures with a group of close friends. Her special bond with the Ross/Roscizewski/Michels sisters-in-law led to many enjoyable afternoons and family celebrations. Gloria and Hubert spent many years bowling on a couple's league leading to lifelong friendships. In the mid 70's Gloria began working as a supervisor at Castle Lanes Bowling Center, retiring in April of 1990.
Gloria and Hubert had a cottage in St. Germain where they spent many fun summers with the family, both immediate and extended. In retirement they were able to spend their entire summers at "The Cottage". It is a favorite destination for relaxing, fishing, and memorable family time. Most of all, Gloria enjoyed family. Spending time with her children, grandchildren, great-grandchildren, and extended family gave her the greatest joy.
Gloria was preceded in death by infant daughter, Colleen; parents, Jess and Dorothy Welch; brother and sister-in-law, Alvin and Lorraine Welch; father and mother-in-law, Hubert and Florence Roscizewski, Sr.; brothers and sisters-in-law, Alex and Jean Ross, Robert and Jane Roscizewski, Jerry Ross, Virginia and Clarence Michels, and Bernie Michels.
Gloria is survived by her children, Christine Olson (Larry Zimmer), of River Falls, WI, Dan (Cheryl) Ross, of River Falls, WI, Gail Ross of Sedona, AZ, Dale (Jennifer) Ross of Colorado Springs, CO. Grandchildren, David (Kristina) Olson, Jason (Missie) Olson, Jenny (Bryan) Kemp, Kitt (Socheata) Parker, Cody Parker, Justin Hobson, Nick Ross, Luke Ross, Jake Ross, Josh (Donna Lee) Ross, Kayla (Marques) Williams, and 18 great-grandchildren. She is further survived by brothers and sisters-in-law, Pete (Barbara) Ross of Franksville, WI, Paul (Donna) Roscizewski of Franksville, WI, Caroline Michels, of Washington, Doris Roscizewski of Racine, WI, and many dear nieces, nephews, relatives, and friends.
A private family memorial service for Gloria and interment of Hubert and Gloria's urn, was held on Saturday, September 3, 2022, at Greenwood Cemetery in River Falls, WI. They will rest together forever in the arms of their Lord and Savior. Arrangements are with Bakken-Young Funeral & Cremation Services.