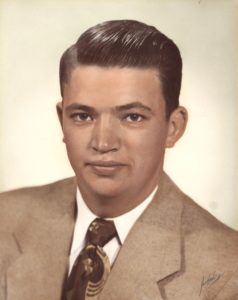 Glenn V. Highum, age 86, of New Richmond, WI passed away peacefully on June 20th. He was born Aug, 13, 1931 in Rushford, MN to George and Gertie Highum, the youngest of five sons. Glenn graduated from Luther College. He served in the US Army at the end of the Korean War and was stationed in Germany. He married Theodora "Teddy" Adams on November 29, 1958. He is survived by his wife of 59 years, Teddy; sons, Thomas (Kathleen), Erick (Julie), William (Jenny Mockenhaupt); daughter, Kristi; grandchildren, Kelly and Justin; brother, Herbert (Ruby); brother-in-law, Thomas Adams (Shirle); and many relatives and friends.
Glenn worked in the insurance industry for over 40 years in which he traveled the Midwest extensively. He was President of the following groups: the First Lutheran Church Council, the New Richmond Fine Arts Council, and the New Richmond Golf Course Men's League. He was also a member of the First Lutheran Church Choir for over 40 years.
Glenn liked to play golf, bridge, and ping pong; singing; and gardening. He also enjoyed spending time with his family especially for birthdays and holidays.
Glenn will be remembered as being a fun loving, positive influence, who was very friendly and outgoing to everyone. He was a natural storyteller especially about his family and growing up in southern Minnesota.
Visitation was held on Wednesday, June 27th at 10 am at First Lutheran Church (218 County Rd K) in New Richmond. The funeral took place at 11 am at the church. A luncheon was served at the church immediately following. Interment in New Richmond Cemetery with military honors performed by American Legion Post #80.  Arrangements are with Bakken-Young Funeral & Cremation Services Beebe Chapel of New Richmond.