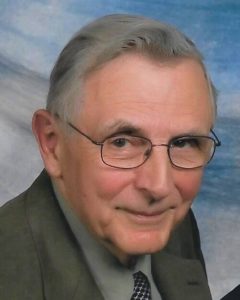 Glen Wiese, age 90, of River Falls, WI, peacefully passed away on Sunday September 20, 2020 at Kinnic Health & Rehab in River Falls, WI. Glen was born in Ellsworth, MN on October 27, 1929 to Thorwald and Hattie (Langfeldt) Wiese. He began his education in a rural one room schoolhouse but finished his secondary schooling at Magnolia High School, Class of 1947. Glen received his undergraduate degree from Macalester College in St. Paul, MN in 1951 and began his career at 3M in St. Paul. Shortly after joining 3M, Glen was drafted into the Army. Receiving his Honorable Discharge, Glen returned to 3M to resume his career while obtaining his Master of Business degree from the University of Minnesota.
With the loving assistance of good friends, Glen and Lola Petersen were introduced, marrying less than a year later on October 22, 1955 at Luck Lutheran Church in Luck, WI. They began their life together in White Bear Lake, MN, welcoming three children into the world, Nancy, Diane, and James. In 1964, Glen and the family moved to a farm on the banks of the St. Croix River just west of River Falls, WI.
In addition to a full-time job at 3M, Glen enjoyed country living. With the always willing and cheerful assistance of his family, Glen raised and chased cattle, repaired fence, drove tractor, inspected the crops, picked apples, raised trees, and regularly mowed a very large lawn with a very loud lawnmower.
Glen's Christian faith was central to his life. In addition to a consistent devotional life, he led and participated in Bible studies over the years at Ezekiel Lutheran Church. He also assumed multiple leadership roles including serving as congregational president, leading capital campaigns, and participating in church council.
Glen lovingly supported his children and grandchildren by attending their academic, music, and sporting activities. As time permitted, Glen enjoyed traveling with Lola, either by plane to Europe, Hawaii, and Florida, or by car to see the brilliant fall colors along the Mississippi or in northern Wisconsin.
After over 40 years and serving in a multitude of financial roles, Glen knew and was known by a large group of the 3M family. In 1992, then a Sector Controller, Glen retired and then really got busy.
Glen and his family were blessed by the loving care received from the staff and friends at WellHaven Senior Living Apartments, Kinnic Health & Rehab, Moments Hospice and Ezekiel Lutheran Church. Glen is preceded in death by his parents, Thorwald and Hattie Wiese and his wife Lola Wiese. Glen is survived by his children, Nancy (Anthony) Nasvik of River Falls, WI; Diane (Carl) Bjornstal of River Falls; James (Gloria) Wiese of Chanhassen, MN; grandchildren, David (Kelly) Wiese; Robert Wiese; Christine Bjornstal; Ryan Bjornstal; great grandchild, Briggs Wiese.
A private visitation was held on October 1, 2020 at the Bakken-Young Funeral Home in River Falls. A graveside service was held immediately thereafter at 4:00 PM in Greenwood Cemetery in River Falls.  The family requests that memorials be directed to Ezekiel Lutheran Church. Arrangements are with Bakken-Young Funeral and Cremation Services of River Falls.